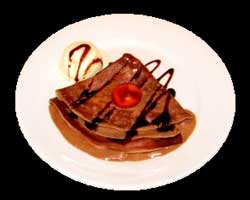 Ok, ok, strawberry crepes may be better categorized as a strawberry dessert instead of a strawberry bread.  But since this strawberry crepes recipe calls for flour, I am putting it here.  Whether you think of crepes as a dessert, breakfast food, afternoon snack, or something else, one thing is certain: they are good!
Pick a few strawberries off of your strawberry plants (or get some at the grocery store) and whip up this delightful taste sensation.  And, of course, once you have tried it, leave a comment relaying your experience.  It may just inspire others to head to the kitchen and do something delicious!
If you were looking for something other than a strawberry crepes recipe and found this page, Strawberry Plants .org has a multitude of fantastic Strawberry Recipes that are available to you.  Feel free to peruse the other recipes for what you desire!
Strawberry Crepes Recipe
This is an easy recipe to whip up.  And, it is a favorite for just about everyone who tries it.  So, gather your ingredients without delay and head to the kitchen to make it today!  You'll be glad you did.
Strawberry Crepes Recipe: Ingredients for Crepes
2 strawberries (medium to large)
1/4 cup of skim milk
1/4 cup of water
1 egg
1 tablespoon of vegetable oil
2/3 cups of flour
1/4 teaspoon of sugar
1 pinch of salt
Strawberry Crepes Recipe: Ingredients for Filling
1 cup of fresh sliced strawberries (conversions here)
3/4 cup of whipped cream
1/2 cup of semisweet chocolate chips
Strawberry Crepes Directions
Remove the green hulls from the fresh strawberries. Put the two medium-to-large strawberries in a large bowl and mash them into a pulp.  Then, add the oil, water, milk, and egg.  Beat the liquid ingredients together.  Then add the salt, sugar, and flour, beating them in as they are added.  Heat a medium-sized skillet over medium-high heat.  Using a non-stick skillet will simplify the process and likely produce a more visually-appealing end result.  Pour or ladel the batter into the center of the skillet.  Be sure to tilt it so that the batter is evenly spread out.  Cook until golden brown on one side.  Turn it once.  The cooking time should be between two and 5 minutes.  Repeat the process with any crepe batter that is remaining.
For the filling, whip the whipping cream (additional sugar or sweetener can be added to taste).  Then melt the chocolate chips in a small saucepan over low heat.  Be sure to stir continuously.  Once melted, remove from the heat.
Spread the melted chocolate on one side of the crepe.  Create a line of overlapping sliced strawberries down the center of the crepe on top of the chocolate.  Then, roll it up.  Top with the whipped cream and drizzle the extra chocolate on top.  Alternatively, this strawberry crepes recipe can be folded instead of rolled.  In this case, after covering one side with chocolate, cover a wedge (1/4 of the crepe) with the sliced strawberries.  Then, fold the crepe over the berries twice, adding a layer of whipped cream between the two folds.  Drizzle the top with chocolate and garnish with a strawberry slice.
Strawberry Crepes Recipe: Notes
This strawberry crepes recipe can be whipped up in a matter of minutes making it a great option for people on the go.  It is also easily modified.  For taste variations, try using extra virgin coconut oil instead of vegetable oil, dark chocolate chips, and whole or 2% milk. For those conscious about the amount of refined table sugar they consume, feel free to try organic evaporated cane juice crystals, turbinado, sucanat, honey crystals, brown sugar, or even stevia to give unique and varied accents to this quick strawberry recipe.
Be sure to post a comment about your experience below, and others will benefit from your experiences!
Enjoy!