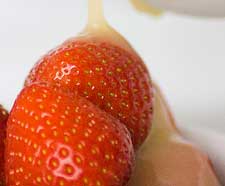 Custard is a holiday season staple for many families.  With the plethora of other spices used to heighten the senses around the holidays, why not spruce up your traditional custard by replacing it with this strawberry custard recipe?  Truly a delight, it will satisfy the traditional requirement while making those who partake excited to head back for more.
Strawberry Plants .org has a multitude of fantastic Strawberry Recipes.   If you found this page while you were searching for something other than a strawberry custard recipe, click the above link to peruse a host of other strawberry-containing recipes.  Even if you aren't sure what you want, it is likely that you will find something exciting to try!  And, the collection of recipes will help you use your strawberries in tasty and creative ways…if you have any left, that is!
Now, for the strawberry custard recipe:
Strawberry Custard Recipe
Deliciousness is summed up by the word "custard."  Creating this strawberry custard will bring smiles to faces in as many places as you fix it.  The good thing about this recipe is that it is easily served by putting it into individual servings.  Be prepared to have a new favorite!
Strawberry Custard Recipe: Ingredients
2 cups of fresh sliced strawberries (conversions here)
4 eggs
2 & 1/3 cups of milk
1/2 cup of sugar
1/2 teaspoon of almond extract
ground cinnamon
whipped cream
Strawberry Custard Recipe Directions
Lightly beat the four eggs in a medium mixing bowl.  Then, stir in the almond extract, sugar, and milk.  Add 1 & 1/2 cups of strawberries and stir them in.  Put custard cups (6 oz) in a 9- by 13- by 2-inch baking pan.  Evenly divide the custard mix into the cups, sprinkle the tops with cinnamon, and then pour boiling water into the pan around the base of the cups up to one inch.
Bake the strawberry custard at 325 degrees Fahrenheit for 50 minutes to one hour (until a tester comes out clean).  Place in the refrigerator to chill.  Once chilled, add whipped cream as desired and garnish the custards with the remaining sliced strawberries.
Strawberry Custard Recipe: Notes
This strawberry custard recipe makes six servings.
Just like most of the other Strawberry Recipes, this strawberry cream recipe is easily modified.  Frozen sliced strawberries can be used instead of fresh, if necessary.  Feel free to experiment. For those conscious about the amount of refined table sugar they consume, feel free to try organic evaporated cane juice crystals, turbinado, sucanat, honey crystals, brown sugar, or even stevia to give unique and varied accents to this quick strawberry recipe.
Be sure to post a comment about your experience below, and others will benefit from your experiences!
Enjoy!