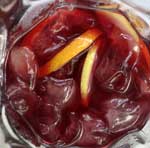 Strawberries have long been used to spice up adult beverages.  If you are looking for an alcoholic strawberry drink recipe, non-alcoholic strawberry drink recipe, or a strawberry wine recipe, look no further.  This page is a sub-directory of our Strawberry Recipes page devoted to strawberry drink recipes.  If you are looking for more kid-friendly options, check out the strawberry beverage recipes instead.  And, remember, always drink responsibly.  Drunkenness does no one any good.
Strawberry Drink Recipes
To find the specific strawberry drink recipe for which you are looking, simply click the appropriate link under the category heading.
Alcoholic Strawberry Drink Recipes
Strawberry Daiquiri Recipe
Not all strawberry daiquiri recipes are equal. This one is an easy strawberry daiquiri recipe that will have you making winning strawberry daiquiris quickly.
Christmas Party Strawberry Punch Recipe
Without a doubt, this is a candidate for the best Christmas punch recipe anywhere. Try it once, and you'll have a new traditional Christmas party strawberry punch recipe on your hands!
Triple Sec Strawberry Margarita
Looking for some zip? Serve up two glasses of this Triple sec strawberry margarita recipe, and you'll find some. You'll find an instant friend or two also, if you offer some to a stranger!
Ginger Ale Strawberry Blonde
This ginger ale strawberry blonde recipe makes use of the most underrated fizzy drink to create a sure winner for everyone old enough and responsible enough to consume it!
Christmas Strawberry Punch
Looking to enjoy a cool cup by a warm fire this holiday season? This Christmas strawberry punch recipe is perfect for any holiday occasion. Even the Festivus has room for this punch!
Snappy Pineapple Strawberry Punch
Looking for a punch recipe that will take a bite out of bland? Bingo. You have finally found what you are looking for: this magnificent snappy pineapple strawberry punch recipe! Enjoy!
Orange Liqueur Strawberry Margarita
One sip of this orange liqueur strawberry margarita recipe will take you back to when you were footloose and fancy free! You don't even need to be near crystal blue seas to enjoy this one.
The Strawbeery Drink
So, you have decided to host a last-minute garden party. But, you forgot to prepare the drinks, and the guests will be arriving soon. The strawbeery drink is a perfect solution!
Strawberry Banana Peach Daiquiri
Get your pirate eye patch and ship ready. This strawberry banana peach daiquiri recipe is a treasure just waiting to be found. Of course, you won't meet any real dangers with this recipe!
Easy Strawberry Martini
This is an easy strawberry martini recipe that is delightful and satisfying. All strawberry martinis are NOT created equal. This easy martini recipe will prove it!
Non-Alcoholic Strawberry Drink Recipes
Virgin Strawberry Daiquiri Recipe
This virgin strawberry daiquiri recipe is sure to please. Even kids can enjoy a non-alcoholic strawberry daiquiri recipe every now and again!
Virgin Strawberry Blonde Recipe
If you are a kid or just a teetotaler, this virgin strawberry blonde recipe will meet your need. If you landed the designated driver gig, you'll still have a great time with this recipe!
Strawberry Wine Recipes
Strawberry Wine Recipe
Use this strawberry wine recipe to make your homemade strawberry wine. Instructions are here along with a series of step by step videos showing how to make wine.
Alternative Strawberry Wine Recipe
!
Strawberry Lime Wine
There is no better time than now to start making your own homemade wines. This strawberry lime wine recipe is a great one to start with. Get the knowledge you need to succeed here.
The Best Strawberries for Making Strawberry Wine
Looking for the best strawberries for wine making? This post addresses the best strawberries for wine & the best strawberries for making strawberry wine. Get the skinny on wine strawberries here.
When you try one of the recipes, be sure to let us know how it turned out for you!  You can leave a comment on this strawberry beverage recipes post or use the About page to email.
Enjoy!