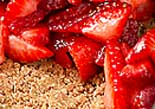 Whether the humans in your coterie will howl with joy at the smell of these delicious fruit bar squares or scream like banshees and charge the kitchen to get their paws on the first served fruit bar, this recipe will be cause for excitement.  Like grandmother's best recipe from times long ago, this recipe will make your children's children yearn for the good old days of carefree youth when they are older and wiser (like you!).
So, as difficult as it may be to restrain yourself and the drooling hoards that appear in your kitchen when the scents begin to spread on the breezes, try to maintain civility, squelch the pushing, shoving, biting, and gnashing of teeth amidst your underlings, and gently herd the roiling masses to the table.  And, of course, once this recipe emerges from the oven, be sure to serve them up quickly to avoid the degeneration of normally-civil folks and kids into a melee of flying utensils and weaponized silverware…
And, of course, don't forget that this is just one of many extraordinary recipes available for your enjoyment on StrawberryPlants.org. There are even other dessert recipes! If you are looking for other culinary uses for your extra strawberries, be sure to see the complete Strawberry Recipes section.
Strawberry Fruit Bar Recipe
The aroma wafting from the oven as you bake these tasty treats will draw all the people within sniffing range to your kitchen.  Like a pack of ravenous wolves hot on the scent of their prey, your own crew will nosh these like a bunch of wild animals!
Strawberry Fruit Bar Ingredients
1 cup of strawberries (strawberries can be substituted, conversions here. You can also freeze your own)
1/2 cup of strawberry juice
1/2 cup of blueberries
1 egg
1 tablespoon of coconut oil
1 and 1/2 cups of flour
1/4 teaspoon of vanilla extract
1 teaspoon of baking powder
1 teaspoon of baking soda
1 tablespoon of sugar
Strawberry Fruit Bars Recipe Directions

Wash and hull the strawberries.  Then, slice 1/2 cup of them thinly and set aside.
Preheat the oven to 350 degrees Fahrenheit.  Grease an 8-inch baking pan.
Blend the rest of the strawberries together with the strawberry juice until smooth.  Pour into a mixing bowl and beat together with the egg, vanilla, and coconut oil.  Add the flour, sugar, baking powder, and baking soda.  Beat thoroughly.  Add the blueberries and remaining sliced strawberries to the mixture.
Spread the mixture into the baking pan and bake at 350 degrees for 20 to 25 minutes, or until browned.  A toothpick inserted into the center should come out clean when finished.
Remove the done fruit bars from the oven and allow to cool prior to cutting into squares and serving!
Additional Notes on this Strawberry Recipe
This strawberry fruit bars recipe makes a truly fantastic dessert.  But, if you or your family members have a hankering, it works equally well as a sweet addition to breakfast or as an afternoon pick-me-up.  Plus, just like most of the other Strawberry Recipes, this one can be easily modified. For varied tastes, try adding other berries or exotic fruit. Experiment and find what works well for you and your unique taste sensibilities! For those conscious about the amount of refined table sugar they consume, feel free to try organic evaporated cane juice crystals, turbinado, sucanat, honey crystals, brown sugar, or even stevia to give unique and varied accents to this quick strawberry recipe.
Be sure to post a comment about your experience below, and others will benefit from your experiences!
Enjoy!