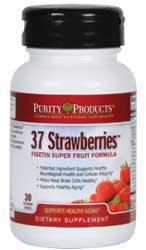 Fisetin has been in the news lately as a superfood component in strawberries. The bottom line is that strawberries are even more healthy than we originally believed.  Consuming them can increase vitality and give a boost to bodily systems.
But, consuming enough strawberries to give a therapeutic dose of fisetin can be challenging.  It takes just under 40 strawberries to get the needed amount of this flavonoid.  Even if you love the red berries, that can be a challenge to do day in and day out.  Purity Products, a company that makes products based on scientific evidence, has created a unique product that allows anyone to get the benefits of fisetin consumption without the effort of picking, hulling, and washing any strawberries by hand.  The product is called 37 Strawberries.
Benefits of Fisetin
The FDA does not allow un-disclaimed statements about the efficacy of any nutritional supplement.  Consequently, it must be noted that "these statements have not been evaluated by the Food and Drug Administration. These products are not intended to diagnose, treat, cure or prevent any disease."
With that said, here are the evidence-based potential benefits of supplementing with fisetin through 37 Strawberries:
Fisetin is a flavonoid found in strawberries and other plants that is the subject of intriguing new research. Though it hasn't been tested in humans yet, Fisetin has demonstrated a number of biological effects in animal studies that suggest it helps preserve the health of both nerve cells and blood vessel cells in the brain. Among these findings, Fisetin increases glutathione, a key cellular antioxidant. In tandem with that, it shows the ability to protect cells from oxidative stress through other key mechanisms. Added together, these finding suggest Fisetin may help maintain healthy brain function, especially as we age.

Findings from the Salk Institute study mentioned earlier indicate Fisetin activates brain signaling pathways in the hippocampus, the part of the brain that regulates long term memory. In one experiment, mice administered Fisetin showed greater ability to recognize familiar objects than control mice.

Additional research has revealed that Fisetin acts to slow formation of substances that form in the system called advanced glycation end products or AGEs. These byproducts of metabolism form when sugars in the blood attach to proteins in unusual ways. Protein glycation tends to speed up during aging, so nutrients that can help keep in check may be of benefit to health as we age.
Healthy living is important.  It is impossible to overvalue a fully functional, balanced body and metabolism.  Fisetin can be an important component to a healthy lifestyle.
For the Nutrition Facts and more information on this practical strawberry supplement, just click here: 37 Strawberries.