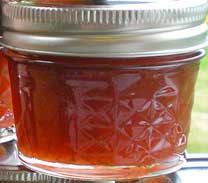 Who doesn't have a fond childhood memory of satiating a growling tummy by slathering a slice of freshly baked, warm, aromatic bread with liberal coating of sweet strawberry jelly…and then devouring it.  Who knows, it may have even been a bread and strawberry jelly sandwich.  Well, everyone who is no longer a kid used to be one.  Chances are good, your own inner kid will squeal with delight if you use this strawberry jelly recipe to conjure up another helping of that old-time jelly goodness.
This strawberry jelly recipe is but one of many that Strawberry Plants .org offers in its Strawberry Recipes section.  If you found this page while you were searching for something other than a strawberry jelly recipe, click the above link to find numerous other strawberry-containing recipes.  Actually, if you haven't a clue as to what you want to nibble upon, take a look at the tempting delights there.  Chances are, you will find a satisfying way to use your strawberries (if you have any left, that is!).
Anyway, on to the strawberry jelly recipe!
Strawberry Jelly Recipe
Strawberry jelly is but one member of the Strawberry Preserves family.  Its close cousin strawberry jam is also an all-time favorite.  In case you don't know the similarities and contrasts of the two, you can click this link to learn what is the difference between jam and jelly.
Strawberry Jelly Recipe: Ingredients
3 quarts of fresh strawberries (conversions here)
3 and 3/4 cups of berry juice
7 and 1/2 cups of sugar (equivalent to 3 and 1/4 pounds)
2 pouches of fruit pectin
1/4 cup of lemon juice
Strawberry Jelly Recipe Directions
Wash the strawberries and remove the stems and green caps.  Crush the strawberries, one layer at a time.  Dampen a jelly bag.  Put the strawberries in the dampened jelly bag and drip.  Put the 3 and 3/4 cups of fruit juice into a large sauce pot (six to eight quarts).  Next, stir the sugar and lemon juice into the fruit juice.  Bring the juice/sugar/lemon juice mixture to a full boil, stirring constantly.  Add the pectin and allow it to boil for another minute, then remove it from the heat source.  Ladle the foam and then fill your tempered preserving jars up to 1/2 inch from the top (headspace).  Remove the air bubbles, seal the jars with tight lids, and place into a hot bath for twenty minutes.  Remove the finished strawberry jelly and store in cool place.  This strawberry jelly recipe yields eight cups of jelly.
Strawberry Jelly Recipe: Notes
This strawberry jelly recipe has a great flavor.  It is easy.  And, just like most of the other Strawberry Recipes, it is simple to modify.  Countless types of fruit juices can be used for different flavor accents, or straight strawberry juice can be used for exceptional strawberry flavor.  Experiment and find what works well for you and your unique taste sensibilities!For those conscious about the amount of refined table sugar they consume, feel free to try organic evaporated cane juice crystals, turbinado, sucanat, honey crystals, brown sugar, or even stevia to give unique and varied accents to this quick strawberry recipe.
Be sure to post a comment about your experience below, and others will benefit from your experiences!
Enjoy!