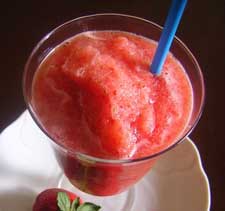 This strawberry juice slushie recipe is a breeze to make.  And, it is wonderful to sip on a hot summer day.  Just be careful not to drink it too fast or you are sure to end up with a head freeze!  It is also a great option if you have unexpected guests stop by for a visit.  Just keep some frozen strawberries on hand, and you'll be able to offer a sweet treat to your friends and family any time you wish.
And, if you are looking for a different Strawberry Smoothie recipe or Strawberry Beverage, Strawberry Plants .org has an entire library of wonderful Strawberry Recipes that are sure to please.  Just click the previous links to find a different strawberry-containing recipe that will fulfill your expectations.  Even if you don't know quite what you are looking for, chances are that you will find something exciting to try!
On to the strawberry juice slushie recipe…
Strawberry Juice Slushie Recipe
Be forewarned: this recipe is likely to become a fast favorite.  The kids will love it because they don't have to wait very long before they have a cold cup in hand full of juicy goodness.  You'll like it because it is done in minutes.  And, of course, it will satisfy adult cravings too!
Strawberry Juice Slushie: Ingredients
1 cup of frozen strawberries (conversions here, how to freeze strawberries here)
2 cups of water
5 teaspoons of sugar
Strawberry Juice Slushie Recipe Directions
Put the frozen strawberries into a high speed blender (NutriBullet, for example).  Add the water and sugar.  Blend until the mixture is smooth.  To thin the drink, add more water until the consistency is to your liking.  Additionally, if you'd prefer to eat it with a spoon, add less water.  Serve immediately for best results.  The longer the drink sits and warms, the runnier it becomes.  It can also be stored into freezer until re-frozen if a strawberry ice type dessert is desired.
Strawberry Juice Slushie: Notes
Just like most of the other Strawberry Recipes, this strawberry juice slushie recipe is easily modified. Fresh strawberries can be used instead of frozen, and ice cubes can be substituted for water.  Apple juice, grape juice, or other juices can be substituted for the water to give additional fruit flavors. For those conscious about the amount of refined table sugar they consume, feel free to try organic evaporated cane juice crystals, turbinado, sucanat, honey crystals, brown sugar, or even stevia to give unique and varied accents to this quick strawberry recipe (if using pure stevia extract, however, be very cautious with the amount used as it is tremendously sweet and can give an aftertaste if too much is used).
Be sure to post a comment about your experience below, and others will benefit from your experiences!
Enjoy!