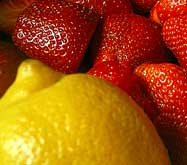 Every now and then people sit down for a bite to eat and are unexpectedly shocked as they bite into a surprisingly delicious culinary delight.  This strawberry lemon rum jam recipe is just such a delight.  Unassuming in appearance, it has the tendency to lull the soon-to-be partaker into a sense of normalcy prior to the first bite.  But, upon sinking their teeth into whatever medium you've chosen to deliver this jam, the discontinuity of what was expected versus what the tingling taste buds are telling the brain is enough to cause the consumer to become taken by the moment: eyes wide and staring at the normal-looking-yet-awesomely-different jam.
So, get your motor running and get busy.  This strawberry lemon rum jam recipe is one for the record books.
And, of course, don't forget that this is just one of many extraordinary recipes available for your enjoyment on StrawberryPlants.org. There are even other strawberry preserves recipes! If you are looking for other culinary uses for your extra strawberries, be sure to see the complete Strawberry Recipes section.
Strawberry Lemon Rum Jam Recipe
This is an amazing strawberry jam.  It is like riding the roller coaster at a theme park when you are finally tall enough after being relegated to the carousel and Ferris wheel for what seems like eons.  So, buckle up and prepare for a wild ride!
Strawberry Lemon Rum Jam Ingredients
5 cups of strawberries (strawberries can be substituted, conversions here. You can also freeze your own)
5 lemons
3 cups of sugar
1 tablespoon of fruit pectin
4 tablespoons of white rum
1 teaspoon of vanilla extract
Strawberry Lemon Rum Jam Recipe Directions

Wash and hull the strawberries (and use the hulls!).  Peel the lemons.  Place the peeled lemons in a blender and blend thoroughly.  Add the strawberries and blend again to the desired consistency.  If you like smooth jam, blend until smooth.  If you prefer chunky jam, blend in bursts until your preferred chunk size is achieved.  Pour the mixture from the blender into a saucepan and add the sugar and pectin.  Mix it thoroughly.  Bring the mixture to a boil and then allow to boil for five minutes, stirring frequently.  Add the white rum and vanilla extract and simmer for 5-10 more minutes, stirring frequently.  When finished, skim off the frothy top layer.
Pour the hot strawberry lemon rum jam into hot sterilized jars, filling each to the top.  Clean any drips off with a damp towel and then close tightly.  After ten minutes have passed, invert the jars so that they are upside down and resting on the lids.  Allow the jam to cool in this position and then right the jars and store normally.Enjoy when ready!
Additional Notes on this Strawberry Recipe
This strawberry lemon rum jam recipe makes a great heirloom recipe. It serves as an excellent breakfast addition or can even be an enjoyable dessert. And, just like most of the other Strawberry Recipes, this one can be easily modified. For varied tastes, try adding blueberries, a lime, or other exotic fruit. Experiment and find what works well for you and your unique taste sensibilities! For those conscious about the amount of refined table sugar they consume, feel free to try organic evaporated cane juice crystals, turbinado, sucanat, honey crystals, brown sugar, or even stevia to give unique and varied accents to this quick strawberry recipe.
Be sure to post a comment about your experience below, and others will benefit from your experiences!
Enjoy!