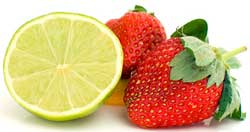 Making your own wine is appealing to many individuals.  However, most people who are interested never take the plunge and get started fermenting their own choice selections.  And, that is just unfortunate.  The wine making process is relatively simple and straightforward.  With the resources available today, however, there are fewer and fewer excuses standing between you and your own fantastic strawberry wines.  This recipe is no exception.  It only takes a little bit of patience to end up with bottles and bottles of your own creation.  If you aren't sure what to do or how to do it, you have landed in the right place.  The how-to here and the references provided below will get you going quite quickly.
And, of course, don't forget that this is just one of many extraordinary recipes available for your enjoyment on StrawberryPlants.org. There are even other wine recipes! If you are looking for other culinary uses for your extra strawberries, be sure to see the complete Strawberry Recipes section.
Strawberry Lime Wine Recipe
So, you've decided to consider making your own wines? Fantastic!  The recipe and instructions below will get you started.
Strawberry Lime Wine Ingredients
9 pounds of strawberries (strawberries can be substituted, conversions here. You can also freeze your own)
2 limes
8 pounds of sugar
5 teaspoons of lemon juice
5 bags of tea
5 gallons of distilled water
5 tablespoons of wine yeast
5 teaspoons of yeast nutrient
Strawberry Lime Wine Recipe Directions

First, steep the 5 bags of tea in one cup of water, then strain until the tea is clear.  Then, grind the strawberries and limes, add the sugar, and let stand for 24 to 36 hours.  Strain the pulp, and then add the rest of the ingredients.  Run water through the pulp and add that water to the previous strained filter result until you have enough water to fill a 5 gallon container.
Cover the container to prevent unauthorized entry by bugs or other contaminants, and stir each day for a full week.  skim or decant off any foam or solid material on the top each day prior to stirring.  Following the stirring and particulate removal, allow the new wine to stand for one month, then siphon the liquid and strain into another container.  Be sure not to siphon up the solids at the bottom of the container.  Let the wine stand again and again siphon.  Repeat this process 4 total times or until the wine is clear.
When the wine is clear, bottle it and allow it to stand for an additional 3 months to allow for the acquisition of the best possible flavor.  You should choose one of the better wine making strawberry varieties.  Also, for more information and general videos, see the original StrawberryPlants.org Strawberry Wine Recipe.
Additional Notes on this Strawberry Recipe
This strawberry lime wine recipe makes a great meal component.  It also goes great with many fruit desserts.  So, take the plunge and get started making your own homemade wine today. Plus, just like most of the other Strawberry Recipes, this one can be easily modified. For varied tastes, try adding blueberries, blackberries, or other exotic fruit. Experiment and find what works well for you and your unique taste sensibilities! For those conscious about the amount of refined table sugar they consume, feel free to try organic evaporated cane juice crystals, turbinado, sucanat, honey crystals, brown sugar, or even stevia to give unique and varied accents to this quick strawberry recipe.
Be sure to post a comment about your experience below, and others will benefit from your experiences!
Enjoy!