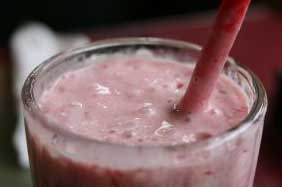 This strawberry milkshake recipe is possibly the quickest, most simple recipe you will ever follow.  And, the best part is that it is naturally sweet and lower in calories than most other strawberry milkshakes.  Most importantly, however, is the fact that it is truly a delightful experience to drink this.  It is the perfect snack or healthy dessert for growing kids, particularly during the hot summer months.  So, pick some fresh strawberries off of your strawberry plants, skip that fake red syrup, and whip up this tasty treat.
If you weren't looking for a strawberry milkshake recipe, Strawberry Plants .org has a multitude of other fantastic Strawberry Recipes that are available to you.  So, try this simple strawberry milkshake or one of the other recipes, and then let us know about your experience by leaving a comment!
Strawberry Milkshake
This is a wonderfully simple strawberry milkshake recipe that is quick, easy, and a tasty delight.  Your friends, neighbors, and countrymen will all love it.  Serve it during hot summer days or cool fall evenings.
Strawberry Milkshake Recipe: Ingredients
1 cup of fresh or frozen strawberries (conversions here)
2 cups of milk
Strawberry Milkshake Directions
Remove the green hulls from the strawberries (if you are using fresh instead of frozen berries). Put the strawberries and the milk in a blender and blend until smooth.  Adding ice cubes will thicken the shake.  That is it!  The whole process should take under two minutes.  Talk about instant strawberry milkshake gratification!
Strawberry Milk Shake Recipe: Notes
If you want to put a bit more time into the process so that the final product is even thicker and colder and tastier for those hot summer days, use an ice cube tray and freeze the milk into cubes.  Additional sugar can also be added, but is likely unnecessary as it is quite sweet and satisfying as is!  This recipe is so simple that it can also be used to teach young children how to follow a recipe.  Give it a try!  The results of successfully following the directions may instill a love of all things culinary into your tyke!
Be sure to post a comment about your experience below, and others will benefit from your experiences!
Enjoy!