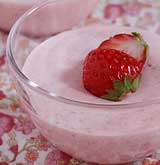 Once one has tried strawberry mousse, it usually finds its way back into the gustatory apparatus on multiple future occasions.  If you are one of the fortunate folks to have tasted this light delight and are looking for a strawberry mousse recipe, you can stop looking now.  This strawberry mousse recipe is a wonderful Strawberry Dessert and an excellent cap to any dining experience.
Strawberry Plants .org has an entire library of wonderful Strawberry Recipes that are sure to please even the most discerning connoisseur.  So, if you stumbled upon this page while you were searching for something other than a strawberry mousse recipe, click the above link to find a different strawberry-containing recipe that will suit your appetite. Even if you don't know quite what you have a hankering for, it is likely that you will find something exciting to try! And, the collection of recipes will help you use your strawberries in tasty and creative ways…if you have any left, that is!
On to the strawberry mousse recipe…
Strawberry Mousse Recipe
Whipped goodness.  That is what strawberry mousse is.  One of the best aspects of this strawberry mousse recipe is that it takes very little time from beginning it until it is ready to eat.  If you are busy and still want a taste of superb strawberry flavor, this strawberry mousse recipe is a must-try.  It only takes approximately 15 minutes of preparation before this simple treat is ready to eat.
Strawberry Mousse Recipe: Ingredients
1 quart of fresh strawberries (conversions here)
1 pint of heavy cream
6 egg whites
3 tablespoons of sugar
Strawberry Mousse Recipe Directions
Place the strawberries into a food processor and chop them until only a few chunks are left (be careful not to liquefy them completely), then stir in the sugar.  Get two mixing bowls.  In one bowl, whip the cream until stiff peaks form.  In the other bowl, whip the raw egg whites until stiff peaks form.  Fold the whipped cream into the strawberry/sugar mixture, and then fold the whipped egg whites in as well.  Divide into four containers (parfait glasses work well) and serve right away or allow it to chill for an hour for a thicker mousse.
Strawberry Mousse Recipe: Notes
This strawberry mousse recipe makes four servings.
Since this strawberry mousse recipe contains raw eggs, anyone who has problems with their immune system should abstain.  Also, pregnant women, the elderly or infirm, and young children should also avoid it.  Two ways to minimize microbial dangers are to buy and use only eggs from free-range chickens and to place each egg into boiling water for 30 seconds prior to using.
Just like most of the other Strawberry Recipes, this strawberry mousse recipe is easily modified. Frozen strawberries can be used instead of fresh, if necessary, and the berries can be cubed instead of processed for a more chunky texture. Feel free to experiment.  For those conscious about the amount of refined table sugar they consume, feel free to try organic evaporated cane juice crystals, turbinado, sucanat, honey crystals, brown sugar, or even stevia to give unique and varied accents to this quick strawberry recipe.
Be sure to post a comment about your experience below, and others will benefit from your experiences!
Enjoy!