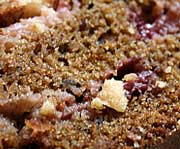 Sometimes you may feel like a nut, and sometimes you may not.  If you are in a nutty kind of mood, take a few moments to make this strawberry nut bread recipe.  It may not cure you of all that ails you, but it will surely cure your hankering for some nuts in a most delightful way.  The sweetness of strawberries combined with the satisfying heartiness of nature's original filler food settles down a growling stomach pronto.  So, when you feel like a nut, get a bit nutty with this recipe.  You'll be happy you acquiesced to your inner squirrel.
And, of course, don't forget that this is just one of many extraordinary recipes available for your enjoyment on StrawberryPlants.org. There are even other strawberry bread recipes! If you are looking for other culinary uses for your extra strawberries, be sure to see the complete Strawberry Recipes section.
Strawberry Nut Bread Recipe
Just a word of warning: be sure to close and lock all your windows once you decide to begin preparing this recipe.  While it is good to feed your inner squirrel, you don't need to do battle with zombie squirrels once they get wind of what you've decided to bake.  Just be careful so that you don't set off the zombie squirrel-pocalypse!
Strawberry Nut Bread Ingredients
2 pints of strawberries (strawberries can be substituted, conversions here. You can also freeze your own)
3 cups of flour
1 cup of sugar
1/2 cup of shortening
1/2 cup of water
1/2 cup of chopped nuts
2 eggs
1 teaspoon of baking powder
1/2 teaspoon of cinnamon
1/2 teaspoon of baking powder
Strawberry Nut Bread Recipe Directions

Wash and hull your strawberries.  Blend in a blender until smooth, then pour into a sauce pan and bring the puree to a boil using medium heat.  Cook for one minute, stirring continually.
In a mixing bowl, mix together the eggs, sugar, and shortening until all are blended smoothly.  Combine all of the dry ingredients and add water.  Stir in the strawberry puree and chopped nuts.
Pour the batter into a 9 by 5 inch loaf pan and bake at 350 degrees Fahrenheit for 60 minutes or until a toothpick comes out clean from the center.  When finished, allow the finished strawberry nut bread to remain in the pan and cool down for 5 minutes.  After 5 minutes, remove the bread from the pan and allow it to cool on a cooling rack until it is completely cool.  Serve fresh for maximum goodness!
Additional Notes on this Strawberry Recipe
This strawberry nut bread recipe makes a great "anytime" meal component. It serves as an excellent breakfast addition or can even be an enjoyable stand-alone snack. Plus, just like most of the other Strawberry Recipes, this one can be easily modified. For varied tastes, try adding cashews, pistachios, brazil nuts, hazel nuts, peanuts, or other delicious nuts. Experiment and find what works well for you and your unique taste sensibilities! For those conscious about the amount of refined table sugar they consume, feel free to try organic evaporated cane juice crystals, turbinado, sucanat, honey crystals, brown sugar, or even stevia to give unique and varied accents to this quick strawberry recipe.
Be sure to post a comment about your experience below, and others will benefit from your experiences!
Enjoy!