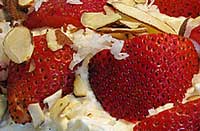 Many a happy soul has delved into a delicious strawberry dish that easily dredged delight from the depths of culinary despair and diminished that dastardly devil called "hunger."  Nevertheless, nary a nut can usually be found frolicking in a frothy fruit treat proffered to tempt the most discerning tastes.  Why do nuts and strawberries find themselves flailing against each other in the minds of master chefs far and wide?  Who knows?  But, it is time to banish such inane notions of gustatory glory and find the true radiance that comes from an olfactory-enhanced experience combining the flavorful aroma of strawberries with the full-bodied force of kernel power.  Get ready, my friends, as this strawberry nut delight recipe will likely shift your expectations of what is right in the world.  Overstated?  You be the judge.
And, of course, don't forget that this is just one of many extraordinary recipes available for your enjoyment on StrawberryPlants.org. There are many other strawberry dessert recipes as well! If you are looking for other culinary uses for your extra strawberries, be sure to see the complete Strawberry Recipes section.
Strawberry Nut Delight Recipe
At this point, a hip-hip-hooray is in order!  You have taken the first fantastic step in fixing a flavorful favorite for friends and family that will fling you forward as a food connoisseur.  So, continue those fabulous footfalls and finish what you've started: this festive fusion of Fragaria fruit and nuts!
Strawberry Nut Delight Ingredients
1 cup of strawberries (strawberries can be substituted, conversions here. You can also freeze your own)
1 cup of plain yogurt
1/2 cup of cream cheese
1/2 cup of sugar
1 tablespoon of lemon juice
1 tablespoon of maple syrup
2 tablespoons of almond slivers
1/4 cup of shelled pistachios
Strawberry Nut Delight Recipe Directions

Wash and hull the strawberries.  Set four strawberries aside for garnishment.  In a mixing bowl, mix together the yogurt and cream cheese.  Add the lemon juice and sugar and again mix thoroughly.  Slice the strawberries, then quarter the slices (or cube the berries, if you prefer).  Add the pistachios and cubed strawberries to the mixture and gently stir in.
To finish, evenly spoon the mixture into serving bowls or dessert glasses.  Sprinkle the almond slivers over the top, drizzle the maple syrup over the almonds, then place a strawberry in the center prior to serving.
Final step: step back and admire your creation before you serve up your magnificent fait accompli to those privileged individuals who are about to partake! This recipe makes 4 delicious servings.
Additional Notes on this Strawberry Recipe
This strawberry nut delight recipe makes a great "shocker" for parties and gatherings of all types.  It appears delightful, but the alternatively crunchy and juicy bits within the sweet and smooth body of the dessert serve up even more opportunity for dopamine release in the pleasure centers of the brain.  While probably not addicting, you may very well make it on a regular basis if you take the initial creative plunge!  Plus, just like most of the other Strawberry Recipes, this one can be easily modified. For varied tastes, try adding blueberries, blackberries, or other exotic fruit.  Try macadamia nuts with sliced Brazil nuts on top, or peanuts with crumbled walnuts on top.  Experiment and find what works well for you and your unique taste sensibilities!
For those conscious about the amount of refined table sugar they consume, feel free to try organic evaporated cane juice crystals, turbinado, sucanat, honey crystals, brown sugar, or even stevia to give unique and varied accents to this quick strawberry recipe.
Be sure to post a comment about your experience below, and others will benefit from your experiences!
Enjoy!