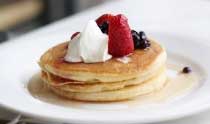 Have you ever whipped up a strawberry pancake recipe?  If not, today is your lucky day!  This recipe brings together the unique flavor of strawberries with one of the all-time favorite breakfast offerings: pancakes.  Strawberry pancakes are not as common as they could be simply because most people have never encountered a strawberry pancake recipe to try.
Now that you have landed here, you have a wonderful opportunity to enjoy this breakfast treat with friends or family.  And, assuming you follow through and make this strawberry pancake recipe, I feel confident it won't be the last time you ever eat delicious strawberry pancakes!  Now, if you are in search of a different recipe and found this page by mistake, Strawberry Plants .org has a multitude of fantastic Strawberry Recipes that are available to you.
And, even if you just found what you were indeed looking for, be sure to check out a few of the other recipes prior to leaving.  One can never eat too many strawberry recipes.  Without further ado, on to the strawberry pancake recipe…
Strawberry Pancake Recipe
Before you go on to make these pancakes, a warning is in order.  Each strawberry pancake you make could further seal the deal on a burgeoning strawberry pancake addiction.  Ok, ok.  While I may be exaggerating a bit about the addictive quality of this culinary delight, I'm completely serious when I say this: they are goooood.  Whip up the recipe, see for yourself, and then leave a comment below about your experiences!
Strawberry Pancake Recipe: Ingredients for Pancakes
1 cup of flour
1 cup of milk
5 eggs
1/2 cup of sugar
1 dash of salt
butter
Strawberry Pancake Recipe: Ingredients for Topping
1 cup of strawberries (conversions here)
1 cup of cottage cheese
1/4 cup of sugar
1 package of vanilla sugar
2 egg yolks
1 tablespoon of lemon juice
Strawberry Pancakes Directions
To prepare the topping, put the cottage cheese, sugar, vanilla sugar, egg yolks, and lemon juice into a blender and blend until smooth.  Transfer the contents of the blender into a bowl.  Wash and remove the green hulls from the strawberries.  Cube the strawberries and add them to the blended topping mixture and stir them in.  Rinse the blender and set aside the mixture until each strawberry pancake has come off the skillet.
To prepare the strawberry pancakes, put the flour, milk, 5 eggs, sugar, and salt into a blender and blend until smooth.  Let the resultant mixture rest for thirty minutes.  After thirty minutes, put the butter into a skillet and melt it on medium heat.  Pour or ladle the batter into the skillet.  Flip the each strawberry pancake once when the underside is golden brown.
When all 8 pancakes are finished, spread the strawberry pancake topping over them and enjoy!
Strawberry Pancakes Recipe: Notes
This strawberry pancakes recipe is easily modified. For  a chocolate strawberry taste variation, try adding chocolate chips to the batter just prior to cooking or stirring in chocolate chips along with the strawberry chunks. For those conscious about the amount of refined table sugar they consume, feel free to try organic evaporated cane juice crystals, turbinado, sucanat, honey crystals, brown sugar, or even stevia to give unique and varied accents to this quick strawberry recipe.
Feel free to decorate the final product with additional sliced strawberries or sprinkled cinnamon or nuts.
And, if you don't have a pancake skillet, you can always get a good one Amazon.com.
Be sure to post a comment about your experience below, and others will benefit from it!
Enjoy!