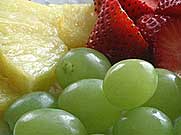 Are you struggling to find something to fire up your feelings for food?  Well, you can finally finish fretting.  This fabulous mouth filler is far from feckless!  In fact, this strawberry passion slurpie recipe will finagle fiery passion from your taste receptacles forthrightly.  Its lusciousness might just foment fanciful visions of far-away beaches full of fine sand.  So, fill your chalice with this super-simple fantasy find only if you are ready to forgo the false whiffs of imaginary fetid ocean fish in favor of fulfilling fantastic flavor longings.  Find your finesse, free your blender, and fix this slurp-a-licious recipe pronto.
And, of course, don't forget that this is just one of many extraordinary recipes available for your enjoyment on StrawberryPlants.org. There are even other unique beverage recipes! If you are looking for other culinary uses for your extra strawberries, be sure to see the complete Strawberry Recipes section.
Strawberry Passion Slurpie Recipe
This combination of fruit combines fun with fiber.  So, the little skinny straws may be too small to allow for adequate slurp power.  You may need a larger-diameter straw, or you may just want to slurp it straight out of the glass.  Either way, you'll likely find yourself slurping away for many days.  This recipe is a fantastic one!  Plus, it is soooo easy.
Strawberry Passion Slurpie Ingredients
2 cups of fresh strawberries (strawberries can be substituted, conversions here. You can also freeze your own)
2 cups of fresh pineapple
1 and 1/2 cups of grapes
1/2 cup of sugar
Water (if needed)
Strawberry Passion Slurpie Recipe Directions

Wash and hull the strawberries.  Peel and core the pineapple.  Cube the remaining pineapple fruit.  Place the strawberries, pineapple, and grapes in a blender and blend for 15 seconds.  Add the sugar and blend until the mixture is an even consistency.  If the resultant mixture is too thick for your liking, add water to thin it.
Pour into glasses and enjoy! This recipe makes 2 fantabulous servings!
Additional Notes on this Strawberry Recipe
This strawberry passion slurpie recipe makes a great treat for kids (even grown-up kids!).  It takes a tiny amount of time to make, and virtually everyone loves it.  It even goes down perfectly after a meal as a sweet treat. Plus, just like most of the other Strawberry Recipes, this one can be easily modified. For varied tastes, try adding blueberries, blackberries, or other exotic fruit. Experiment and find what works well for you and your unique taste sensibilities! For those conscious about the amount of refined table sugar they consume, feel free to try organic evaporated cane juice crystals, turbinado, sucanat, honey crystals, brown sugar, or even stevia to give unique and varied accents to this quick strawberry recipe.
Be sure to post a comment about your experience below, and others will benefit from your experiences!
Enjoy!