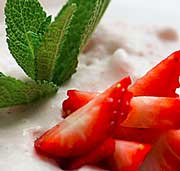 Strawberries are a unique fruit, if you stop to think about it. The famous English angler Izaak Walton attributed the following quote to Dr. William Butler, "Doubtless God could have made a better berry, but doubtless God never did."  There's much to be said about that!  Strawberries have long been atop the mountain of fruit and berry popularity.  Their nutrition and succulent taste have thrilled youngsters and oldsters alike for many hundreds of years.
Milk cows, too, have been part of the sustaining dietary pillars holding up economies and agricultural subsistence throughout history.  So, what do milk cows and strawberries have in common?  Well, this recipe for starters!  Add some peppermint to strawberries and cream and voila!  You get strawberry peppermint cream!  This is another sure-to-please unique strawberry recipe.
And, of course, don't forget that this is just one of many extraordinary recipes available for your enjoyment on StrawberryPlants.org. There are even other unique recipes like this one! If you are looking for other culinary uses for your extra strawberries, be sure to see the complete Strawberry Recipes section.
Strawberry Peppermint Cream: A Unique Experience
The refreshing zing of freshly-ground peppermint makes this delicious recipe worth adding to the regular menu rotation.  Be advised, however, that raw egg whites are called for.  That does carry some risk of food-borne illnesses like salmonella food poisoning.  So, I do not recommend using this recipe if you purchase eggs from the grocery story as those tend to come from filthy chicken houses.  Free-range, clean, organic eggs are the safest and what you should use with this recipe.  Even so, there is always at least a modicum of risk when consuming raw foods.
Strawberry Peppermint Cream Recipe Ingredients
2 cup of fresh strawberries (frozen strawberries can be substituted, conversions here. You can also freeze your own)
1 cup of whipped cream
1 and 1/2 cups of yogurt
2 tablespoons of powdered sugar (extra sugar can be added if desired)
2 tablespoons of ground peppermint
Strawberry Peppermint Cream Directions

First, separate the egg white from the yolk (it is easy with a separator).  Second, whip the egg whites with the cream.  Third, mix the whipped egg whites with the yogurt and add the sugar.  Fourth, quarter the strawberries and stir them carefully into the mixture.  Finally, pour the mixture into bowls and sprinkle the ground peppermint over the tops of each.  This recipe makes four servings.  Enjoy!
Additional Notes on this Strawberry Mint Cream Recipe
This recipe is delicious, but it should be eaten immediately and completely.  Due to the use of raw ingredients, it is not recommended to store leftovers for later consumption.  This strawberry mint cream recipe can be used as a fruit dip also.  To accomplish this, simply abstain from quartering the strawberries and adding them to the mixture.  Complete the rest of the recipe and use whole or halved strawberries to dip into the peppermint cream!  Also, just like most of the other Strawberry Recipes, this one can be easily modified. For varied tastes, you can try adding blueberries or other fruit or using flavored yogurts. Experiment and find what works well for you and your unique taste sensibilities! For those conscious about the amount of refined table sugar they consume, feel free to try organic evaporated cane juice crystals, turbinado, sucanat, honey crystals, brown sugar, or even stevia to give unique and varied accents to this quick strawberry recipe.
Be sure to post a comment about your experience below, and others will benefit from your experiences!
Enjoy!