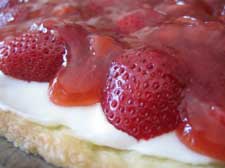 Looking for something strawberry that is so delightful that your sizzling taste buds will scream for more?  Well, boom.  Here it is.  This strawberry pizza recipe is the one to end your search for strawberry pizza recipes for all time.  Family favorite, this will be.  Delighted, you will be!  In all seriousness, this recipe is sure to satisfy the needed visual aesthetic even as the gustatory pleasure is experienced with each luscious nibble.  You are sure to soar to the heights of blissful taste experience by consuming this transcendent strawberry pizza, so make it today!
This strawberry pizza recipe is wonderful, to be sure.  But, it is merely one of many that Strawberry Plants .org offers in its Strawberry Recipes section.  Do you desire a different strawberry dish?  If you happened to end up here while you were on the prowl for something other than a strawberry pizza recipe, click the above link to find a hoard of other strawberry-containing recipes.  You will surely find a simple and satisfying way to make use of your extra strawberries.
Without further ado, on to the strawberry pizza recipe!
Easy Strawberry Pizza Recipe
Strawberry pizza is one of many strawberry recipes that, due to the natural sweetness of strawberries, can be used in a multitude of ways during a meal.  It can BE the meal; it can be served as a side item; or it can be presented as a dessert.  Actually, the uses for strawberry pizza are only limited by your own creativity and imagination.
Strawberry Pizza Recipe: Ingredients for Topping

4 cups of sliced fresh strawberries (conversions here)
1 package of strawberry gelatin (3 oz)
1 cup of water
1/2 cup of sugar
4 tablespoons of cornstarch
1/2 teaspoon of salt
Strawberry Pizza Recipe: Ingredients for Filling
1 package of cream cheese (8 oz)
8 oz of whipped topping
3/4 cups of powdered sugar
Strawberry Pizza Recipe: Ingredients for Crust
1 and 1/2 cups of flour
1 cup of butter
1/2 cup chopped pecans
1/4 cup brown sugar
Strawberry Pizza Recipe Directions
Prepare the crust first.  To make it, mix all the ingredients together in a large bowl to form the dough and spread it into a pizza pan.  Then, bake it at 400 degrees Fahrenheit for 15 minutes.  Remove when done and allow the crust to cool.
To make the filling, first mix together the sugar and cream cheese.  Subsequently, fold in the whipped topping.  Spread the filling over the cool crust.
For the topping, you will need two bowls.  In one bowl combine the sugar, salt, gelatin, and 1/2 cup of water.  In the second bowl, dissolve the cornstarch in the remaining 1/2 cup of water.  Stir the dissolved cornstarch into the gelatin mixture and then cook over medium heat until thickened.  Stir the sliced strawberries in until they are well-coated.  Allow them to cool.  Once cooled, spread them on top of the filling and chill.  Serve when chilled!
Strawberry Pizza Recipe: Notes
As mentioned already, this  strawberry pizza recipe has a truly great and mouth-watering flavor. Plus, it is easy.  Additionally, just like most of the other Strawberry Recipes, it is simple to modify.  Many different flavors of gelatin can be used for different accents, or real whipped cream can be substituted for the whipped topping.  Be bold in experimentation, and find what works well for you and your unique taste sensibilities!  For those conscious about the amount of refined table sugar they consume, feel free to try organic evaporated cane juice crystals, turbinado, sucanat, honey crystals, brown sugar, or even stevia to give unique and varied accents to this quick strawberry recipe.
Be sure to post a comment about your experience below, and others will benefit from your experiences!
Enjoy!