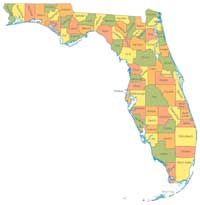 If you want to buy strawberry plants in Florida, you have come to the right place. The following is a directory of suppliers and nurseries that have strawberry plants for sale in Florida. If you would rather buy via the internet, you can visit our directory of Strawberry Plants for Sale Online, which lists online suppliers by nursery. If you know the specific variety you wish to purchase, you can price shop on the Buy Strawberry Plants page.
If you are a supplier of strawberry plants in Florida and would like to be added to this list, feel free to contact us or use the Submit to Us page to let us know about you. Even if you aren't the owner or a representative, you can still submit nurseries where you can buy strawberry plants in Florida for inclusion in our directory!
As nurseries are submitted, they will be listed below by Florida county in alphabetical order.
STRAWBERRY PLANTS FOR SALE IN FLORIDA, BY COUNTY:
Alachua County:
Baker County:
Bay County:
Bradford County:
Brevard County:
Broward County:
Calhoun County:
Charlotte County:
Citrus County:
Clay County:
Collier County:
Columbia County:
De Soto County:
Dixie County:
Duval County:
Escambia County:
Flagler County:
Franklin County:
Gadsden County:
Gilchrist County:
Glades County:
Gulf County:
Hamilton County:
Hardee County:
Hendry County:
Hernando County:
Highlands County:
Hillsborough County:
Holmes County:
Indian River County:
Jackson County:
Jefferson County:
Lafayette County:
Lake County:
Lee County:
Leon County:
Levy County:
Liberty County:
Madison County:
Manatee County:
Marion County:
Martin County:
Miami-Dade County:
Monroe County:
Nassau County:
Okaloosa County:
Okeechobee County:
Orange County:
Osceola County:
Palm Beach County:
Pasco County:
Pinellas County:
Polk County:
Putnam County:
Santa Rosa County:
Sarasota County:
Seminole County:
St. Johns County:
St. Lucie County:
Sumter County:
Suwannee County:
Taylor County:
Union County:
Volusia County:
Wakulla County:
Just Fruits and Exotics
30 St. Frances St.
Crawfordville, FL 32327
(850) 926-5644
Email: justfruits@hotmail.ocm
Website HERE
Walton County:
Washington County: