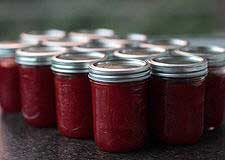 Strawberry picking is almost a national pastime.  Not to exaggerate, but it is even somewhat of a rite of passage for thousands of kids each year.  Plucking ripe strawberries from rows of strawberry plants (and munching on them in the process) is a delightful childhood memory for countless numbers of strawberry lovers.  But, most of us also think of something else when we think of the gentle "snap, snap, snap" that signifies strawberry plants releasing their harvest to happy pickers: strawberry preserves!
The number one purpose for strawberries not eaten fresh after being picked from a Pick-Your-Own Farm (or otherwise obtained) is use in one of the multitudinous strawberry preserves recipes available today.  This post is here to serve as a directory for delicious strawberry preserves recipes.
Everyone knows that strawberry plants make strawberries, and everyone knows that you have to have strawberries to make a strawberry preserves recipe.  So, peruse this directory of recipes if you are looking for strawberry jam recipes, strawberry jelly recipes, or other strawberry preserves recipes.  If you don't want create a tasty strawberry spread to slather upon toast or another object, there are many other Strawberry Recipes available that call for strawberries, and each will delight your taste buds!
Strawberry Preserves Recipes
To find the specific strawberry preserves recipe for which you are looking, simply click the appropriate link under the category heading.
Strawberry Jam Recipes
Strawberry Jam Recipe
Looking for a simple strawberry jam recipe? This basic strawberry jam recipe will meet & exceed expectations & soon become your favorite strawberry jam recipe!
Quick Strawberry Rhubarb Jam
This quick strawberry rhubarb jam recipe is sure to satisfy even the most discerning food critic. Plus, it is simple to make. Gather the ingredients and get started immediately!
Blue Ribbon Strawberry Apricot Jam
This jam recipe is the gold standard for winning all sorts of first prizes at fairs, foodie events, and at the dinner table. This is truly a blue ribbon strawberry apricot jam recipe!
Strawberry Lemon Rum Jam
It is time to get off the boring old carousel and get on the jam roller coaster. This strawberry lemon rum jam recipe will have you waving your hands above your head and squealing with delight!
Strawberry Jelly Recipes
Strawberry Jelly Recipe
This strawberry jelly recipe will help you make use of the harvest from your strawberry plants.  This and the other strawberry preserves recipes are delicious treats for all.
Other Strawberry Preserves Recipes
How to Store Strawberries
It is important to know how to store strawberries to maximize shelf life. Storing strawberries fairly simple. Store strawberries appropriately and enjoy them fresh for up to a week!
Freezing Strawberries
Freezing strawberries is not all that hard. Use this guide to freezing strawberries for frozen strawberries to do it the right way. Summary of all eight main strawberry freezing methods.
Preliminaries: How to Freeze Strawberries
Want to know how to freeze strawberries? This guide will teach you the basics of how to freeze strawberries so that you can begin freezing strawberries today!  For a more detailed discussion, see the Freezing Strawberries link just above.
Sun Drying Strawberries
Ever considered sun drying strawberries? To sun dry strawberries you need the right equipment and the right conditions. Learn about drying strawberries outside here.
Difference Between Jam and Jelly
What is the difference between jam and jelly?  The differences between jam and jelly, as well as the similarities of jam and jelly are discussed here.  Get to know (and appreciate!) the differences between jams and jellies.
A Strawberry Plants .org Freezer Jam Tip!
Use this helpful strawberry freezer jam tip to keep you and your family safe.  This chart lists boiling times for strawberry freezer jam.  Enjoy responsibly!
A Strawberry Plants .org Strawberry Jam Tip!
Use this strawberry jam tip with most any strawberry jam recipe for an increased shelf life and better safety. But, be careful! It is a bit dangerous…
When you try one of the recipes, be sure to let us know how it turned out for you! You can leave a comment on this strawberry preserves recipes post or use the About page to email.
Enjoy!