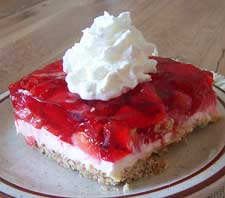 This strawberry pretzel salad recipe can double as a tasty end-of-meal dessert.  It has a unique blend of sweetness and saltiness that doesn't overwhelm.  The sweet strawberry rush of flavor melds wonderfully with the classic saltiness of pretzels to make this strawberry pretzel salad one for the ages.  It even goes well with coffee or tea during cool mornings or winter afternoons.  Beware, however, this treat is not likely one that will yield leftovers.  So, if you have a pack of ravenous kids prowling around the kitchen for yummies, you may want to double the recipe!
If salty-sweet isn't high on your list of favorites, the chances are good you will find a different, more satisfying strawberry recipe in Strawberry Plants .org's continually expanding library of delectable Strawberry Recipes to better suit your tastes.  Peruse the online recipe directory until you find the exact strawberry dish that will thrill every last taste bud in your mouth.  Even if you don't presently know for what you are looking, you will likely find something to whet your appetite!
Now, on to the strawberry pretzel salad recipe…
Strawberry Pretzel Salad Recipe
Everyone loves strawberries.  Everyone loves pretzels.  Everyone should love a strawberry pretzel salad, right?!  Well, they will as soon as they try this one.  Even the aroma of this treat filling the kitchen is enough to rumble a tummy.  So, grab the ingredients, grab the required tools, pre-heat the oven, and get busy making some yum.
Strawberry Pretzel Salad: Ingredients
2.5 cups of fresh strawberries (conversions here)
2 cups of coarse-crushed pretzels
3/4 cups of melted butter
3 tablespoons of sugar
8 ounces of cream cheese
1 cup of sugar
2 cups of whipped cream
6 ounces of strawberry-flavored gelatin
2 cups of water
Strawberry Pretzel Salad Recipe Directions
Wash, drain, and hull the strawberries.  Slice the hulled strawberries into halves, quarters, cubes, or thin slices according to your preference (start with cubes if you have no preference).
Pre-heat your oven to 400 degrees Fahrenheit.  Spread the melted butter, crushed pretzels, and 3 tablespoons of sugar in a 9 x 13 pan and bake for 8 minutes.  Remove and allow to cool.
While the contents of the 9 x 13 pan are cooling, take a large mixing bowl and beat the 1 cup of sugar into the cream cheese.  Whip the whipping cream in a separate bowl and then stir it into the cream cheese mixture.  Once this is finished and the pretzels have cooled, spread the cream cheese over the pretzels in the 9 x 13 pan.
Boil the two cups of water.  Once the water is boiling, stir in the strawberry gelatin and add the prepared strawberries.  Pour this mixture over the cheese mixture and then allow it to chill thoroughly.  After completely chilled, serve to happy mouths!
Strawberry Pretzel Salad: Notes
Just like most of the other Strawberry Recipes, this strawberry pretzel salad recipe is easily modified.  Frozen strawberries can replace fresh ones if no fresh strawberries are available.  Additionally, while it is recommended to use strawberry gelatin, any flavor can be substituted by the bold and adventurous chef.  And, for those conscious about the amount of refined table sugar they consume, organic evaporated cane juice crystals, turbinado, sucanat, honey crystals, brown sugar, or even stevia to give unique and varied accents to this quick strawberry recipe (if using pure stevia extract, however, be very cautious with the amount used as it is tremendously sweet and can give an aftertaste if too much is used).
Be sure to post a comment about your experience below, and others will benefit from your experiences!
Enjoy!