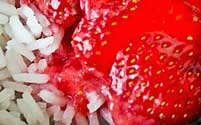 Sometimes unsuspecting food critics sit down to an unknown dish with skepticism brewing and bubbling like a volcano underneath the calm exterior.  Criticisms are forming before the first nibble is taken.  Well, if you know some such food pedant, abort their food snobbery with this little dandy of a recipe.  One taste will silence the simmering skeptic like Alka-seltzer to a stomach that just finished a bowl of two-day-old chili with extra garlic and hot sauce.  Really, it is that good.
If kids are around, you might want to banish them to the basement while you make it, or it might just get quaffed by the starving hoards before you even put the finishing touches on it.  Rice pudding alone can't hold a candle to this fantastico recipe.  Try it and you'll be a believer thereafter.
And, of course, don't forget that this is just one of many extraordinary recipes available for your enjoyment on StrawberryPlants.org. There are many other recipes of all kinds! If you are looking for other culinary uses for your extra strawberries, be sure to see the complete Strawberry Recipes section.
Strawberry Rice So Nice Recipe
To make this masterpiece, you don't need a ton of time.  So, gather the ingredients and get started.  The sooner you do, the sooner you can experience the mind-blanking awesomeness that comes with the first taste.  All you will be able to utter when it hits up your taste buds is, "So nice!!!"
Strawberry Rice So Nice Ingredients
2 cups of strawberries (strawberries can be substituted, conversions here. You can also freeze your own)
2 and 1/2 cups of milk
1/2 cup of rice
4 tablespoons of sugar
3 tablespoons of yogurt
1 tablespoon of strawberry juice or strawberry liqueur
lemon balm for decoration
Strawberry Rice So Nice Recipe Directions

Use a sharp knife (or clean razor blade if you are very careful!) to slice the vanilla bean in half from tip to end.  Set it aside.
Over medium heat, bring the milk to a boil and pour the rice in slowly while stirring constantly.  Add 3 tablespoons of sugar while stirring.  Scrape all of the dark pulp from the center of the vanilla bean into the mixture.
Reduce the heat to low, and allow the rice/milk mixture to simmer for another thirty minutes, stirring well every 2-3 minutes.  After thirty minutes, allow the vanilla rice pudding to cool.
Wash and hull the strawberries.  Puree all of the strawberries except 4 to be used as garnishment when completing and serving.  Add 1 tablespoon of sugar and the strawberry juice/liqueur to the pureed strawberries.
Mix the rice pudding with the yogurt once cooled, and lightly press the mixture into four forms.  Evenly divide the strawberry sauce onto four plates and invert the forms over each plate to deposit the molded rice mixture on top of the strawberry sauce.  Garnish the strawberry rice so nice with a whole strawberry and a few leaves of lemon balm.
Serve and enjoy!  This recipe makes 4 delicious servings.
Additional Notes on this Strawberry Recipe
This strawberry rice so nice recipe makes a great spring dessert. It is a great harbinger of spring bounty as well, so consider making it as soon as the first strawberry crops start coming in during the early spring. Plus, just like most of the other Strawberry Recipes, this one can be easily modified. For varied tastes, try adding blueberries, blackberries, or other exotic fruit to the puree. Experiment and find what works well for you and your unique taste sensibilities! For those conscious about the amount of refined table sugar they consume, feel free to try organic evaporated cane juice crystals, turbinado, sucanat, honey crystals, brown sugar, or even stevia to give unique and varied accents to this quick strawberry recipe.
Be sure to post a comment about your experience below, and others will benefit from your experiences!
Enjoy!