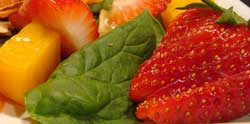 This strawberry salad recipe is an instant hit with just about everyone who tries it.  In fact, it can even eat like a meal.  Men, women, and children universally seem to like it.  What is the secret?  Well, this strawberry salad recipe calls for strawberries right off the strawberry plants and a secret ingredient.  Most people love strawberries anyway, but the unique combination this salad brings to the table elevates the typical strawberry experience to one that is, quite possibly, beyond words.
You may think this description is a bit superfluous.  That is completely fine!  Just do this: keep reading to see the "secret" ingredient, and make the strawberry salad recipe just once.  The proof is in the salad.  Make it, eat it, and then leave a comment about your experience.  If it isn't one of the best you've ever chowed down upon, I'll apologize!
Strawberry Salad Recipe: Ingredients
2 cups of freshly picked strawberries (or more!)
Greens (enough to fill your serving bowl 2/3 full)
Green onions, chopped (to taste)
1 mango
Blue cheese
Bacon (the Secret Ingredient!)
Strawberry Salad Recipe Directions
De-cap and slice the strawberries.  Peel and cube the mango.  Chop the green onions.  Cook the bacon until crispy but not burnt.  Layer the ingredients in your serving bowl.  Crumble the blue cheese and cooked bacon on top.  Serve to your family or guests!
Oh, and I highly recommend using this Strawberry Salad Dressing.  Believe me, if you try the salad with the dressing, you will understand!
Strawberry Salad Recipe: Notes
This strawberry salad recipe is absolutely savory.  And, it is easily modified.  After seeing countless delighted looks after the first bite of this strawberry salad, I can say that the chances are excellent that it will become one of your favorites.  The real bacon in combination with the sweet fruit creates a taste bud party!
All recipes are made to be tinkered with, and this one is no exception.  In fact, I have eaten modified versions of this strawberry salad recipe that included avocado cubes, orange wedge chunks, various nuts, and many others.  Experiment with it and have fun; then post a comment about your trials and successes with this recipe!
Enjoy this strawberry salad recipe!