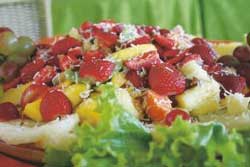 The delicious fruit from strawberry plants make for savory additions to salads.  In fact, some of the strawberry salad recipes here will tickle your taste buds like no salad has ever done before.  Whatever type of strawberry salad you are seeking is likely listed below (or will be soon as recipes are added on an ongoing basis).  If you aren't looking for a strawberry salad recipe, be sure to visit the main directory.  There you can find many more delightful and delicious Strawberry Recipes.
This page, however, is dedicated to strawberry salad recipes. The use of strawberries can produce some of the most tasteful salads anywhere.  So, peruse this directory of recipes if you are looking for any type of strawberry salad recipes, strawberry fruit salad recipes, or strawberry vegetable salad recipes!
Strawberry Salad Recipes
To find the specific strawberry salad recipe for which you are looking, simply click the appropriate link under the category heading.
Strawberry Fruit Salad Recipes
Yogurt Strawberry Fruit Salad
This is an easy yogurt strawberry fruit salad recipe.  Make it and watch the eyes of the eaters light up with particular delight at the amazing flavor explosion.
Pineapple Coconut Strawberry Salad
This delicious chilled pineapple coconut strawberry salad recipe will do a dance on your taste buds.  This could be the king of strawberry salads, so make it today!
Strawberry Pineapple Salad Recipe
Looking for a truly wonderful strawberry pineapple salad recipe? You have found it! This recipe is as delectable as they come. Better warn your mouth prior to eating!
Ginger Ale Strawberry Fruit Cocktail
This ginger ale strawberry fruit cocktail recipe is a sure-fire winner. Easy and delicious, it makes the most of an under-appreciated bubbly beverage: ginger ale!
Strawberry Vegetable Salad Recipes
Strawberry Spinach Salad
Are you looking for an easy strawberry spinach salad recipe that will take very little time to prepare and make a lasting impression on your palate? It is here!
Strawberry Salad Recipe
This is the best strawberry salad recipe known to man.  Men, women, and children love it equally.  Pamper your guests and make your family happy by serving it up with a meal or AS a meal!
Veggie Strawberry Salad
This veggie strawberry salad recipe will become a legend. Your family may be turned onto a path of healthiness by this one recipe. They'll tell stories, and they'll be veggie tales.
Balsamic Strawberry Salad Recipe
Strawberries in salads? You bet. This recipe will capture your attention & the attention of your guests too. For a great addition to your meal, try this balsamic strawberry salad recipe.
Sweet Strawberry Spinach Salad
This sweet strawberry spinach salad recipe is a natural fit for spring, whether you are actually experiencing the warming of the seasons, or just longing for those days.
Other Strawberry Salad Recipes
Strawberry Salad Dressing Recipe
This is likely the best strawberry salad dressing recipe of all time.  Sort through strawberry salad recipes until you've found the best strawberry salad recipe, then dress it using this recipe!
Strawberry Pretzel Salad
Looking for an easy strawberry pretzel salad recipe that is sure to please? Look no further. This delicious strawberry pretzel salad recipe is sure to become a fave! In fact, it can double as a dessert!
When you try one of the recipes, be sure to let us know how it turned out for you! You can leave a comment on this strawberry breads recipes post or use the About page to email.
Enjoy!