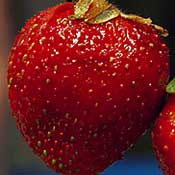 Welcome to Schnap-land.  Why not get your vacation off to a great start with this strawberry schnapps margarita recipe?  Whether you are looking for the perfect accent to cool and refresh, or a fantastic finale following flying down the slopes on your skiing trip, this drink goes down smoothly.  It's easy, too!
And, of course, don't forget that this is just one of many extraordinary recipes available for your enjoyment on StrawberryPlants.org. There are even other drink recipes! If you are looking for other culinary uses for your extra strawberries, be sure to see the complete Strawberry Recipes section.
Strawberry Schnapps Margarita Recipe
This recipe is not to be used and served to those too young to safely or legally consume such beverages.  Always consume alcoholic beverages responsibly!
Strawberry Schnapps Margarita Ingredients
1 cups of strawberries (strawberries can be substituted, conversions here. You can also freeze your own)
1 ounce of strawberry schnapps
2 ounces of lime juice
2 ounces of tequila
1 ounce of Triple sec
1 cup of ice
Strawberry Schnapps Margarita Recipe Directions

Wash the strawberries.  Then hull all of them except for two (these will be used as garnishment).  Pour all of the ingredients (except the two whole strawberries) into a blender and blend on high for 30 seconds.  When smoothly blended, pour into a couple of margarita glasses.  Slice the two remaining whole strawberries from the tip about halfway to the green hull, then slide the strawberry over the lip of each margarita glass.  Serve while cold.
This recipe makes 2 delicious servings!
Additional Notes on this Strawberry Recipe
Like all of the other Strawberry Recipes, this one can be easily modified.  But, it really needs no modification! For those conscious about the amount of refined table sugar they consume, feel free to try organic evaporated cane juice crystals, turbinado, sucanat, honey crystals, brown sugar, or even stevia to give unique and varied accents to this quick strawberry recipe.
Be sure to post a comment about your experience below, and others will benefit from your experiences!
Enjoy!