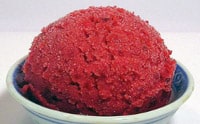 If you love to exercise your hospitality genius and have guests over for dinner parties or holiday celebrations or really just about any other reason, you know the value of having a great recipe that brings forth the compliments and praise.  This recipe is one such.  Whether you go with heavy and filling dinner dishes or lighter cuisine, this strawberry sorbet recipe is just the perfect final installment to deliver an exclamation point to the taste buds of your guests that won't be soon forgotten.
The sweet, dissolving aspects of this dessert not only enhance the final memory of delightful tastes, but also goes down smooth.  The rapidity of sweet burst of flavor combined with the feel of frozen sweetness as it melts away is somewhat reminiscent of cotton candy.  The volume is tantalizingly big, but the final result of the spun sugar fibers is a fast-dissolving burst of flavor.  Enjoying this sorbet is similar: no matter how big a bowl you serve, it will be gone before you know it, and even the fullest belly can stand to sample another bite!
And, of course, don't forget that this is just one of many extraordinary recipes available for your enjoyment on StrawberryPlants.org. There are also many other dessert recipes! If you are looking for other culinary uses for your extra strawberries, be sure to see the complete Strawberry Recipes section.
Strawberry Sorbet Recipe
Grab your ingredients as listed below, and get started.  The process takes less time if you have an ice cream maker available, but you can finish the recipe with or without one.  Either way, this sorbet is amazing.
Strawberry Sorbet Ingredients
6 cups of strawberries (strawberries can be substituted, conversions here. You can also freeze your own)
2 lemons
10 ounces of icing sugar
nylon sieve
Strawberry Sorbet Recipe Directions
First, wash and hull the strawberries.  Then, crush them and rub them through the nylon sieve to remove the seeds.
Juice the two lemons.  Add the juice from the two lemons to the crushed and strained strawberries and whisk in the 10 ounces of icing sugar.
Once the lemon juice, sugar, and strawberries are well mixed, pour the mixture into an ice cream maker and churn it until it is frozen.  This is the easiest and quickest way, but if you don't have an ice cream maker you aren't out of luck with this recipe!  Simply pour the mixture into a tray and then scratch the sorbet up into shards when it is almost solid.  Place the shards back into the freezer and freeze it for an additional hour prior to serving.
The final texture will be smoother using the ice cream maker to churn until frozen, but both will be delicious!
Additional Notes on this Strawberry Recipe
This strawberry sorbet recipe makes a great "anytime" dessert. It can serve as an excellent breakfast addition or can even be an sweet treat for lunch. Plus, just like most of the other Strawberry Recipes, this one can be easily modified. For varied tastes, try adding blueberries, blackberries, or other exotic fruit. Experiment and find what works well for you and your unique taste sensibilities! For those conscious about the amount of refined table sugar they consume, feel free to try organic evaporated cane juice crystals, turbinado, sucanat, honey crystals, brown sugar, or even stevia to give unique and varied accents to this quick strawberry recipe.
Be sure to post a comment about your experience below, and others will benefit from your experiences!
Enjoy!