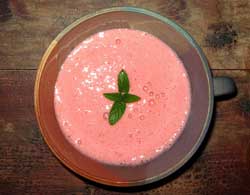 Strawberry soup?!!  Who ever heard of such a thing?  Well, you have now, and it is a deliciously wonderful treat.  You can use these strawberry soup recipes chilled for summer enjoyment or heated for a fall/winter taste bonanza.  While few things trump a chilled strawberry soup recipe during the peak of the summer, made with strawberries from your own home-grown strawberry plants, store-bought strawberries or frozen strawberries are also quite satisfying.
So, when you are ready to branch out into uncharted territory, trying the strawberry soup recipes below can broaden your horizons.  When you try a strawberry recipe, be sure and leave a comment about your experiences.  And, be sure to check out more delicious Strawberry Recipes!
Strawberry Soup Recipes
To find the specific strawberry soup recipes for which you are looking, simply click the appropriate link under the category heading.
Chilled Strawberry Soup Recipes
Easy Strawberry Soup Recipe
This is a delicious and easy strawberry soup recipe that the entire family is sure to enjoy. Make it and serve it during strawberry season or on a muggy summer day!
Orange Zip Strawberry Soup
This orange zip strawberry soup recipe goes down smoothly on hot summer days or warm spring afternoons. It can be easily modified into a thicker dessert also, so try it today!
Warm Strawberry Soup Recipes
Warm Strawberry Soup
Strawberry soups are most often served chilled during the warmer months. But, this warm strawberry soup recipe is best during the cooler fall and winter months.
When you try one of the recipes, be sure to let us know how it turned out for you! You can leave a comment on this strawberry soup recipes post, the individual recipe page, or use the About page to email.
Enjoy!