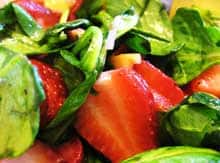 Should a strawberry spinach salad recipe be on the agenda for your next meal?  You bet.  Few things scream "healthy and delicious" like the fresh green crispness of savory spinach and the sweet juiciness of just-washed strawberries.  And, as if you've been begging to be swept up in a culinary rapture to food heaven, topping it off with a superlative dressing is just plain unbeatable when it comes to satiating even the most demanding taste buds.  In fact, why do you torture your tongue so?  Get busy making this strawberry spinach salad right away!
Of course, Strawberry Plants .org also has an ever-growing library of sensational Strawberry Recipes that are magnificently delicious.  Feel free peruse and browse through recipe directory until you find the exact recipe that will help you use your extra strawberries in your own culinary masterpiece.  Even if you don't know quite what you are looking for, chances are that you will find something exciting to try!
I guess that is enough blather, here is the strawberry spinach salad recipe…
Strawberry Spinach Salad Recipe
Spinach has to rank at the top of the list of hearty greens.  The thick, meaty leaves go well with virtually any green dish or salad.  But, have you ever combined them with strawberries?  Since this recipe takes very little time to prepare, you are just minutes away from a great taste experience if you haven't.  And, even if you have tried out a strawberry spinach salad before, you will no doubt enjoy this one as well!
Strawberry Spinach Salad: Ingredients
4 cups of fresh sliced strawberries (conversions here)
spinach (as much or as little as you desire)
Dressing: Ingredients
Option 1
1/2 cup of sugar
1/2 cup of vegetable oil
1/4 cup of white wine vinegar
2 tablespoons of sesame seeds
1 tablespoon of poppy seeds
1/4 teaspoon of paprika
Option 2
1/2 cup of sugar
1/2 cup of virgin coconut oil
1/4 cup of white wine vinegar
2 tablespoons of sesame seeds
1 tablespoon of poppy seeds
1/2 teaspoon of paprika
1/2 teaspoon of minced onion
1/4 teaspoon of Worcestershire sauce
Strawberry Spinach Salad Recipe Directions
Wash, drain, and hull the strawberries.  Cut the hulled strawberries into thin slices.  Wash the spinach.  For the most appealing, non-bitter taste, remove the stems from the spinach and then tear or cut the spinach into small, bite-sized pieces.  Toss the strawberries and spinach together in a salad bowl.  In a small mixing bowl, mix together all of the ingredients for the salad dressing.  Serve the salad and then pour the dressing over it.  Eat away!
Strawberry Spinach Salad: Notes
Just like most of the other Strawberry Recipes, this strawberry spinach salad recipe is easily modified. Frozen strawberries can replace fresh ones if no fresh strawberries can be found (although this decreases the quality of the salad significantly).  Other small fruit cubes or berries and other greens can be added.  Nuts can be included for extra oompf.  For those conscious about the amount of refined table sugar they consume, feel free to try organic evaporated cane juice crystals, turbinado, sucanat, honey crystals, brown sugar, or even stevia to give unique and varied accents to this quick strawberry recipe (if using pure stevia extract, however, be very cautious with the amount used as it is tremendously sweet and can give an aftertaste if too much is used).
Be sure to post a comment about your experience below, and others will benefit from your experiences!
Enjoy!