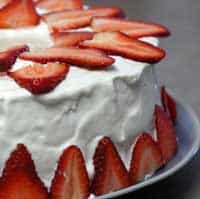 When most people think of strawberry dessert recipes, high on the list will be directions for making a strawberry shortcake.  And, rightly so.  Shortcakes are synonymous with summer and have become a staple item at summer celebrations, from birthday parties to July 4th events.  But, if taste is your objective, try making this recipe and compare it head-to-head with its more famous cousin.  If you would have ranked your favorite strawberry shortcake recipe number one before, get ready to bump it down to the penultimate spot.  This one is ready to take its place as your ultimate strawberry cake recipe!
An up-front warning: this strawberry sunshine cake recipe does take some time to prepare properly.  However, what recipe worth its salt doesn't?  The best things in life (and the kitchen!) are worth the effort and time invested in them.  However, if you aren't the type that finds effort put in equals greater satisfaction later, or if you simply don't have the time, no problem!  Feel free to find a different strawberry-containing recipe that will be more in line with your expectations if you landed here in error. Even if you don't know quite what you are looking for, chances are that you will find something exciting to try if you look around here!  Strawberry Plants .org has an entire library of wonderful Strawberry Recipes that are sure to please.  Many are super quick, super simple, and all of them are super tasty!  You might want to start with the strawberry desserts.
Why the Strawberry Sunshine Cake Recipe?
Once you prepare and consume this recipe, you will know that you really don't need a reason or special occasion to make it.  It is an end unto itself!  But, it is a fantastic addition to Bar-b-que spreads and doubles well as a birthday cake.  When you look at the finished product before you make the first cut, you will also notice that it is a sufficiently elegant cake to serve at just about any official function as well. You should plan for about 30 minutes of preparation time and another 50 for baking.  Here's how:
Strawberry Sunshine Cake: Ingredients for Cake
1 cup of all-purpose flour
1 cup of egg whites (will require about 7 eggs)
5 egg yolks
1/2 teaspoon of vanilla extract
1/2 teaspoon of lemon extract
1/2 teaspoon of almond extract
2 tablespoons of water
1 1/2 cups of sugar, divided
1/2 teaspoon of salt
1/2 teaspoon of cream of tartar
Strawberry Sunshine Cake: Ingredients for Filling
2 pints of fresh strawberries (conversions here), divided
1 package (3 oz) of strawberry gelatin
1 cup of boiling water
1/2 cup of ice water
1 carton (8 oz) of frozen whipped topping, thawed and divided
Strawberry Sunshine Cake Recipe Directions
First, beat the egg whites, salt, and cream of tartar until soft peaks form (use a large mixing bowl).  Gradually add one cup of sugar in increments of one tablespoon at a time until the peaks stiffen.  Then set the bowl aside.
In another bowl, beat the egg yolks for about 5 minutes, or until they have slightly thickened.  Add the rest of the sugar and continue beating until the batter is thick with a lemon color.  Then, blend in the water and all of the extracts.  Sift the flour over the batter, and beat it until smooth.  Next, fold in the egg whites until just blended.
Spoon the result into a 10-inch tube pan, cutting through the batter with a knife or other tool to release any trapped air bubbles.  Smooth out the top.  Place the tube pan in the oven and bake at 325 degrees for 50 to 55 minutes (or until the cake springs back after light touch).  When baked, invert the pan immediately and allow it to cool completely.
For the filling, use another large bowl and dissolve the gelatin into the boiling water.  After it is dissolved, add the ice water and stir it.  Then, place the bowl in ice water until it is slightly thickened (usually about 5 minutes).  When thickened, fold in sliced strawberries and 1/2 cup of whipped topping.
Next, loosen the cake by running a knife between the edge of the pan and the edge of the cake.  After loosening, the cake will need to be divided into three equal layers.  Depending on the firmness and texture of your final product, either a piece of dental floss or a sharp bread knife will work well.  Cut and put the bottom layer on a dish.  Spread half of the gelatin concoction on the top of the bottom layer.  Add the second cake layer on top of the freshly-spread gelatin, and spread the remaining gelatin over the second cake layer.  Use the remaining whipped topping as frosting and cover the top and sides.  Use the remaining strawberries to garnish the finished strawberry sunshine cake recipe!  To liven it up even more, it can be served with vanilla or strawberry ice cream and drizzled with chocolate.  The finished cake should be kept chilled until ready to be served, and any leftovers (if there are any!) should also be refrigerated.
Strawberry Sunshine Cake: Concluding Notes
Just like most of the other Strawberry Recipes, this strawberry sunshine cake recipe is easily modified.  If you don't have access to fresh-picked strawberries, frozen fruit can be tried.  Also, extra sugar can be added for more sweet zip.  For those conscious about the amount of refined table sugar they consume, feel free to try organic evaporated cane juice crystals, turbinado, sucanat, honey crystals, brown sugar, or even stevia to give unique and varied accents to this quick strawberry recipe (if using pure stevia extract, however, be very cautious with the amount used as it is tremendously sweet and can give an aftertaste if too much is used).  Add other fruit for special occasions, too!  Blueberries added to the strawberries around the 4th of July makes the finished produce quite patriotic.  Be sure to post a comment about your experience below, and others will benefit!
Enjoy!