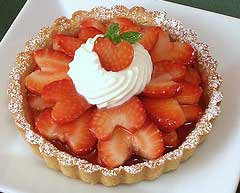 Grownups and kids around the world love strawberry tarts.  So, why not indulge with this strawberry tart recipe?  Sure to please even the most discerning palate, this easy strawberry tart recipe is a breeze to whip up and even easier to snarf down.  While excellent as an after-a-meal dessert, these can also be eaten as breakfast or with a meal.  They are versatile and delectable!
Strawberry Plants .org has a multitude of fantastic Strawberry Recipes.  If you found this page while you were searching for something other than a strawberry tart recipe, click the above link to browse through our ever-growing collection of strawberry-containing recipes.  Even if you aren't looking for something to eat at the moment, bookmark the recipes page and come back when you get a craving for deliciousness! And, the collection of recipes will help you use your strawberries in tasty and creative ways!
Enough intro already, on to the strawberry tart recipe!
Strawberry Tart Recipe
These strawberry tarts are so easy to make, even a bumbling couch potato husband or attention deficit person can find tasty success!  Gather the ingredients below, follow the directions, and you've got winning strawberry tarts.
Strawberry Tart Recipe: Ingredients
3 cups of fresh strawberries (conversions here)
12 prepared, baked tart shells (4 inch)
2/3 cup of sugar
2 and 1/2 tablespoons of cornstarch
1 cup of apple juice
1 pinch of salt
Whipped cream
Strawberry Tarts Recipe Directions
Wash and de-cap your fresh strawberries and then set them off to the side.  Next, prepare the glaze by blending the sugar, salt, and cornstarch and then stirring the blended mixture into the apple juice.  Cook the resultant mixture over medium heat until it is thick and smooth.  Be sure to stir constantly.  After it is smooth, let it cool for ten minutes.  While the glaze is cooling, arrange your strawberry tart shells.  When the glaze has cooled, spread a small amount into the bottoms of each strawberry tart shell.  Slice the strawberries in half and arrange them on top of the glaze so that the shells are filled.  Spoon the remainder of the glaze over the strawberries so that they are well-covered.  Place the tarts in the refrigerator for three to four hours.  Serve with whipped cream on top.
Strawberry Tart Recipe: Notes
This strawberry tarts recipe makes twelve tarts.  And, just like most other Strawberry Recipes, this strawberry tart recipe is easily modified.   Frozen sliced strawberries can be used instead of fresh, if necessary, but strawberry tarts are best created with freshly sliced fresh strawberries.  However, do feel free to experiment. For those conscious about the amount of refined table sugar they consume, feel free to try organic evaporated cane juice crystals, turbinado, sucanat, honey crystals, brown sugar, or even stevia to give unique and varied accents to this quick strawberry recipe.
Be sure to post a comment about your experience below, and others will benefit from your experiences!
Enjoy!