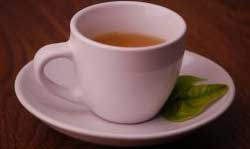 Strawberry tea has a long history of use as both a medicinal drink and as a tasty relaxation help.  This strawberry tea recipe is fairly simple, but there are a few things worthy of mention before you go and make your own fresh strawberry tea.
First, a few noteworthy nutritional facts.  Strawberry leaves have a long history of use as an herbal remedy for diarrhea, especially in children.  Additionally, methyl salicylate, the active pain inhibitor in aspirin is contained in strawberry leaves in trace amounts.  Perhaps most noteworthy is the fact that strawberry leaves contain up to 75 times the amount of the anti-angiogenic compound ellagic acid as do the fruits.  On the low end, strawberries contain around 430 parts per million (ppm) of ellagic acid and can contain as much as 8,430 ppm.  The leaves of the strawberry plant, however, will contain between 8,080 ppm and 32,300 ppm.  So, just as it may be possible to prevent cancer by eating strawberries, it may also be even more beneficial to drink strawberry tea made from freshly picked leaves.
Second, a cautionary tale.  It is widely noted that strawberry leaves need to be used either immediately after picking or after the leaves have completely dried due to a "toxin" that is formed when the leaf loses its life support and begins to whither.  This mild toxin can irritate the stomach and cause general discomfort.  While verified by multiple anecdotes, the true cause of the gastric disturbances is not scientifically verifiable at present.  It is more likely that the environmental microorganisms and fungi that participate in the withering process are to blame for any problems, not the leaves themselves.  However, with that said, it is still best to wait until the leaves are completely dry and crumble easily before using (if they aren't going to be used fresh).
If you weren't looking for a strawberry tea recipe, Strawberry Plants .org has a multitude of other fantastic Strawberry Recipes that are available to you.  Try this strawberry tea recipe or one of the other recipes, and then let us know about your experience by leaving a comment!
Strawberry Tea Recipe
This is a wonderful strawberry tea.  While strawberry tea is best made from just-picked young strawberry leaves, there are strawberry teas that can be purchased (see links below) if time is of the essence.  Be careful about chemicals when picking leaves for tea.  If you don't know what has been used as fertilizers or pesticides on the plants, do not use those leaves to make strawberry tea!  There are over 50 commonly used pesticides and fertilizers that have the potential to cause significant health problems if ingested.  If care is not exercised when locating your strawberry leaves, the "toxin" mentioned above might be the least of your worries.
Also, be sure to select only flawless, young leaves.  A host of strawberry diseases can affect your strawberry plants (see the Strawberry Plant page for details).  Make sure your strawberry tea leaves are healthy.
Strawberry Tea Recipe: Ingredients
1 handful of fresh or well-dried strawberry leaflets
1 tablespoon of cream
Honey or stevia
Strawberry Tea Directions
Place the handful of strawberry leaflets into a teapot.  Pour boiling water over the leaves and allow to steep for at least 5 minutes.  Add the cream and stir.  Add honey or stevia to taste.  If fresh or dried stevia leaves are available, add them to the handful of strawberry leaflets prior to pouring in the boiling water.
Strawberry Tea Recipe: Notes
This type of strawberry "tea" is actually not a tea at all.  In order for a beverage to technically be called a tea, it has to be made with components (usually leaves) of the tea plant.  This strawberry drink is more aptly called a strawberry herbal infusion or tisane.
If you don't have time to grow your own strawberries or prepare this strawberry tea recipe, strawberry teas can be purchased from Amazon.com here.
Be sure to post a comment about your experience below, and others will benefit from your experiences!
Enjoy!