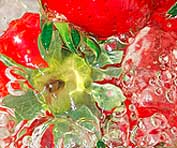 Strawberries, strawberries, strawberries everywhere!  Everyone gets excited about springtime strawberry recipes, and rightly so.  They are delicious!  If you've perused these recipes long enough, you can probably identify one of the first commonsense steps in virtually everyone of them: wash and hull the strawberries.  Of course you will wash the dirt and debris off of the freshly picked or purchased strawberries.  Then, since few people like to nibble the greenery of the calyx atop the berry, they deftly hull those babies.
So, to what use can you put those excess and normally unused strawberry tops?  Well, you can compost them or feed them to your pet hamster, of course.  But, you can also make a delightful strawberry water infusion.  Adding cucumbers to a cup of cold water is a favorite way to add a bit of freshness to otherwise bland water.  Strawberry hulls can be used for the same purpose!
And, of course, don't forget that this is just one of many extraordinary recipes, tips, and helpful tidbits available for your enjoyment on StrawberryPlants.org. There are even many other beverage recipes! If you are looking for other culinary uses for your extra strawberries, be sure to see the complete Strawberry Recipes section.
Strawberry Water Infusion Recipe
While worms love strawberry tops, why feed them to the squiggly creatures when you have already gone to the trouble of washing them?!
Strawberry Water Infusion Ingredients
All of the tops and strawberry remnants that you have already cleaned and separated from your fresh berries (used in other recipes of course!)
2 fresh mint leaves
Strawberry Water Infusion Recipe Directions

Take all your clean strawberry tops and place them in a large jar.
Quarter the mint leaves and place them in the jar with the strawberry hulls.
Pour water into the jar until full and screw on the lid.  Allow it to sit for 2 hours.
After two hours you will have a gently fruity water infusion to drink alone or serve with dinner.  You should fill the jar about half way with strawberry tops before filling to the top with water.  For a denser strawberry taste, you can add more strawberry tops, but doing so decreases the volume of water proportionately.
Additional Notes on this Strawberry Recipe
This strawberry water infusion recipe is a great way to minimize waste and make the most out of every single strawberry.  Using the discarded strawberry hulls and tops to give your water a bit of extra strawberry zing is awesome!  Try it the next time you make anything with your strawberries.  And, if you want to add even more delight to this strawberry water infusion, feel free to add a pinch (or three!) of organic evaporated cane juice crystals, turbinado, sucanat, honey crystals, brown sugar, or even stevia to give unique and varied accents to this quick strawberry recipe.
Be sure to post a comment about your experience below, and others will benefit from your experiences!
Enjoy!