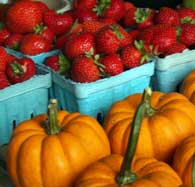 Lucky Charms cereal isn't the only thing that is delightfully delicious.  No, siree.  Strawberries are.  And, so are pumpkins.  You probably didn't know this, but I am about to introduce you to a little-known delight: the stuffed strawberry pumpkin.  Strawberries are arguably the quintessential spring yummy.  And, few things communicate fall-ness more than football, changing leaves, and, of course, PUMPKIN.  Pumpkin pie, pumpkin pudding, and once you try this recipe, you'll be adding stuffed strawberry pumpkin to your own list.
So, when thanksgiving rolls around, don't do anything too drastic, like substituting pork chops for the turkey.  But, if you try this stuffed pumpkin recipe, you'll create a positive furor amongst the blood-kin that will last for generations.  They'll hail you as the originator of an all-time favorite family food tradition.  And, if the NFL gets wind of it, they may even replace Madden's Turducken with Mama's stuffed strawberry pumpkin recipe for the annual Cowboys loss on Thanksgiving Day!  (Simmer down, Cowboys fans…)
And, of course, don't forget that this is just one of many extraordinary recipes available for your enjoyment on StrawberryPlants.org.  If you are looking for other culinary uses for your extra strawberries, be sure to see the complete Strawberry Recipes section.
Stuffed Strawberry Pumpkin Recipe
On your path to becoming the most famous foodie in your family tree, get these ingredients and follow the directions for a fantastic fall experience.  Of course, you don't have to whip this up only when the leaves are red and yellow.  It goes down easy during any season!
Strawberry Stuffed Pumpkin: Ingredients
1/2 cup of strawberries (strawberries can be substituted, conversions here.  You can also freeze your own)
1 medium-sized pumpkin
2 apples
1/2 cup of chunked pineapple
1/2 cup of walnuts
1 teaspoon of ground cinammon
1/2 teaspoon of ground nutmeg
1/4 teaspoon of ground cloves
Strawberry Stuffed Pumpkin Recipe Directions
First, prepare the pumpkin.  Cut off the top of the pumpkin and clean out the seeds and stringy goop.  Put the pumpkin in a baking pan with the cut side down and the bottom facing up.  Bake it at 350 degrees F. (or 175 degrees C.) for 40 minutes or until it is soft.  Scrape out the cooked pumpkin and place the scrapings into a bowl.  Set aside.
Put the apples into a blender and blend until chunky.  Quarter the walnuts and strawberries.  Add all ingredients into the bowl with the pumpkin scrapings and mix them together very well.  Spoon the resultant mixture back into the pumpkin shell and cover with the original top that was cut off of the pumpkin.  Put the full pumpkin back into the oven and cook for 45 more minutes at 400 degrees F. (or 200 degrees C.) or until the filling is hot.
Serve it up, and become a folk legend and hero to subsequent generations!
Stuffed Pumpkin Recipe: Notes
Similar to just about any of the other Strawberry Recipes, this one can be modified by the daring kitchen inhabitant.  For varied tastes, adding a chunked pear, or other fruit can be exciting to the taste buds.  Experiment and find what works well for you and your unique taste sensibilities!  For those wanting a dessert-like addition to the menu, try using 1/2 cup of sugar, or experiment with organic evaporated cane juice crystals, turbinado, sucanat, honey crystals, brown sugar, or even stevia to give unique and varied accents to this quick strawberry recipe.
Be sure to post a comment about your experience below, and others will benefit from your experiences!
Enjoy!