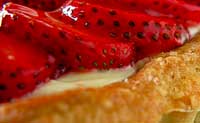 I doubt seriously that the fine folks who painted all those drawings of buffalo hunts on cave walls could have fathomed modern appliances and the internet.  But, fortunately for you, you aren't a caveman.  You are presently hooked up to the internet, looking for fantastic recipes that will leave you speechless.  This super simple strawberry tart recipe is so easy to make, even a caveman could do it.  While you are no caveman, you likely have aspiring balls of destruction running about your house as we speak.  I like to call those present-day wall-painters "kids."  If yours are like mine, they have a knack for scribbling all sorts of designs on the walls of our "cave."  Instead of fighting the creative urge in your kids, why not put them to work helping you whip up this rewarding strawberry tart.  Hunt and gather all the ingredients, and put your clan to work!
And, of course, don't forget that this is just one of many extraordinary recipes available for your enjoyment on StrawberryPlants.org. There are even other dessert recipes! If you are looking for other culinary uses for your extra strawberries, be sure to see the complete Strawberry Recipes section.
Super Simple Strawberry Tart Recipe
Most strawberry tarts are easy to make.  This one, however, is especially easy and well-suited to teaching youngsters how to navigate in the kitchen due to the fact that a pre-made pie crust is used.  If you scoff at such shortcuts, feel free to make your own!
Super Simple Strawberry Tart Ingredients
3 cups of strawberries (strawberries can be substituted, conversions here. You can also freeze your own)
1 pie crust (9-inch, frozen)
8 ounces of softened cream cheese
1/2 cup of sugar
2 tablespoons of milk
1 teaspoon of vanilla extract
Super Simple Strawberry Tart Recipe Directions

First, bake the pie crust according to the instructions included on the package, and set it off to the side to cool.
Wash and hull the strawberries.  Slice them into medium slices.
In a large mixing bowl, beat together the cream cheese, milk, sugar, and vanilla extract until the mixture is smooth.  Transfer the mixture into the cooled pie crust, and spread it evenly around in the crust.   Arrange the sliced strawberries on top of the mixture, either stacking them or pressing them into the mixture so that the tips protrude upwards.  Place the finished tart into the refrigerator for at least one hour prior to serving.This recipe makes 6 delicious servings!
Additional Notes on this Strawberry Recipe
See how easy this is?  Cavemen, eat your hearts out…but not literally.  Get your kids in on the preparation action, and everyone will have a blast making and eating this treat. Plus, just like most of the other Strawberry Recipes, this one can be easily modified. For varied tastes, try adding halved blueberries or other exotic fruit. Experiment and find what works well for you and your unique taste sensibilities! For those conscious about the amount of refined table sugar they consume, feel free to try organic evaporated cane juice crystals, turbinado, sucanat, honey crystals, brown sugar, or even stevia to give unique and varied accents to this quick strawberry recipe.
Be sure to post a comment about your experience below, and others will benefit from your experiences!
Enjoy!