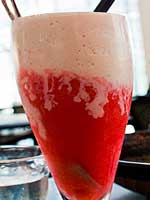 Whether you pick 'em yourself, grow 'em yourself, or snatch 'em off the shelf, strawberries are one of the foodie man's (or woman's!) best friends. The color of the berry begs for consumption, and they definitely do a body good.  When the massive crop of June-bearing fruit comes in as the weather starts getting warmer, the foodies rejoice!  Strawberry plants produce a truly versatile delicacy in their striving for survival.  Men, birds, and land rodents of all kinds have long savored and subsisted on nature's bountiful production of strawberries.  With decades of selection and specific improvements in cultivation methods, however, the availability of strawberries has never in history been greater than today.
So, why not take advantage of the abundance of spring strawberries and utilize some of your personal haul for making this sure-to-please, fantastic, super smooth strawberry yogurt smoothie recipe today!  Trust me, you'll like it.
This surprisingly satiating super smooth strawberry smoothie might just be the most satisfyingly superior swallower-soothing stuff you've ever slurped!  Is that a seriously superlative statement?  Surely.  But, it's a true story!  This recipe is one that serves sumptuous strawberry sensations to scintillated taste buds with each supremely sweet sip.
And, of course, don't forget that this is just one of many extraordinary recipes available for your enjoyment on StrawberryPlants.org.  There are even other smoothie recipes!  If you are looking for other culinary uses for your extra strawberries, be sure to see the complete Strawberry Recipes section. If you found this page while you were hunting for something other than the world's best super smooth strawberry yogurt smoothie recipe, click the above link to find numerous other strawberry-containing recipes. And, even if you stumbled here unintentionally and haven't a clue as to what you want to munch, take a look at the tempting, idea-provoking recipes there.  You will most certainly find a delightful way to use your strawberries (if you have any left, that is!).
Super Smooth Strawberry Yogurt Smoothie Recipe
Smoothies are dismissed as a fad by some, seen as a business by some chain stores, and coveted as a dessert drink by others.  However one thinks of them, they are here to stay.  And, virtually everyone loves them.  As long as you have a blender or Vitamix, they are exceptionally easy and quick to make.  This one takes only about 6 minutes to prepare.  So, make some extra, double or triple the recipe, and have plenty to share with others!  You might want to print out the recipe to had them as well.  They will surely ask for it!
Strawberry Yogurt Recipe: Smoothie Ingredients
1/2 cup of fresh or frozen strawberries (strawberries can be substituted conversions here.  You can also freeze your own)
2/3 cup of plain yogurt
1 cup of vanilla ice cream
1/2 cup of milk
2 teaspoons of vanilla extract
5 whole strawberries for garnishment
Super Smooth Strawberry Yogurt Smoothie Directions
Place the yogurt, 1/2 cup of strawberries (washed and hulled), vanilla extract, and sugar into your blender or processor.  Blend it until the mixture is smooth.  Pour out the mixture into glasses, filling each one half-full.  Thoroughly rinse out the blender/processor to prevent the color from the first blend from tinging the second blend (purely aesthetic, but it does make for a very attractive final presentation).
Next, blend the vanilla ice cream with the milk until foamy.  Slowly and gently pour the second blend on top of the first in the half-full glasses to finish filling them up.  Stick a toothpick through the green calyx at the top of each whole strawberry and place the whole strawberries carefully on top of the two-tone smoothies with the toothpicks up to complete.  Then serve up the attractive drink to the waiting hoards!
Yogurt Strawberry Smoothie Recipe: Notes
This recipe has a great combination of flavors and is simple to make.  It only takes minutes.  Kids and adults love it, and it can be used as a dessert as well.  And, just like most of the other Strawberry Recipes, it can be easily modified.  For varied tastes, vanilla yogurt or strawberry yogurt can be used instead of plain.  Additionally, the milk can be frozen into cubes to make the smoothie thicker and colder for those hot summer days.  Adding a banana, blueberries, blackberries, or other fruit can be of benefit also (you might want to decrease the sugar added if you use a banana, however).  Experiment and find what works well for you and your unique taste sensibilities!  For those conscious about the amount of refined table sugar they consume, feel free to try organic evaporated cane juice crystals, turbinado, sucanat, honey crystals, brown sugar, or even stevia to give unique and varied accents to this quick strawberry recipe.
Be sure to post a comment about your experience below, and others will benefit from your experiences!
Enjoy!