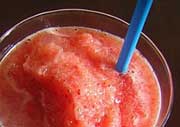 Summer breezes may make you feel fine while they stir up the jasmine in your mind, but few things capture the true essence of the sweltering summer sun like sweet and freshly-picked strawberries.  If you have taken the plunge and planted your own patch, you can probably testify to the fact that those little plants are highly productive!  So, what's a green thumb to do with all the bounty?  Try making this sweet strawberry slush recipe, for starters!  It is simple, cold, and makes fantastic use of those fine red fruits!
And, of course, don't forget that this is just one of many extraordinary recipes available for your enjoyment on StrawberryPlants.org. There are even many other beverage recipes! If you are looking for other culinary uses for your extra strawberries, be sure to see the complete Strawberry Recipes section.
Sweet Strawberry Slush Recipe
Slushies are one of the easiest things to make in a kitchen.  In fact, just about anyone who has ever owned a blender has probably blended a few of them.  Ice plus fruit plus whatever else equals a happy crew of contented consumers!
Sweet Strawberry Slushie Ingredients
1 and 1/2 cups of strawberries (strawberries can be substituted, conversions here. You can also freeze your own)
2 cups of ice
1 cup of water
1 tablespoon of maple syrup
1 tablespoon of sugar
Sweet Strawberry Slushie Recipe Directions

Wash and hull the strawberries.  Then, place the strawberries, water, and ice in the blender and blend until the mixture is only slightly chunky.  At that point, add the sugar and maple syrup, then blend until the mixture is smooth.
It doesn't get much easier than that!  This recipe makes 2 delicious servings (or one big one if you are particularly parched)!
Additional Notes on this Strawberry Recipe
This sweet strawberry slushie recipe makes a great great summer drink.  It is cold to mitigate the summer scorch, but it is quick enough to facilitate all the business that longer days bring. Remember, just like most of the other Strawberry Recipes, this one can be easily modified. For varied tastes, try adding blueberries, blackberries, or other exotic fruit. Experiment and find what works well for you and your unique taste sensibilities! For those conscious about the amount of refined table sugar they consume, feel free to try organic evaporated cane juice crystals, turbinado, sucanat, honey crystals, brown sugar, or even stevia to give unique and varied accents to this quick strawberry recipe.
Be sure to post a comment about your experience below, and others will benefit from your experiences!
Enjoy!