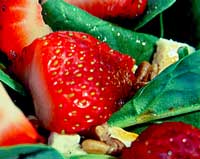 Springtime.  It is the time of year when bluebirds perch atop your shoulders and chirp a sweet melody.  It is the time of year when snows promise to be a thing of the past, and green bursts forth from the dank bleakness of winter brown.  budding flowers on dogwoods and the paler green tips upon conifer branches herald the coming of something grand.
With the coming of increasing temperatures, strawberry plants also are called to renewed vigor as they break dormancy and again send forth their foliage to welcome the strengthening rays of the sun.  But, not only leaves appear!  The perennating buds that were forms with care the previous year also come forth as delicate strawberry flowers.  The buzzing bees find favor therein, and soon the white petals drop and yield a glimpse of red remaining.
Joy comes for many with the first spring harvest of strawberries.  And, what better way to kick off the fun of the coming months than with a great recipe using your freshly-picked strawberries?!  This sweet strawberry spinach salad is just what you need.
And, of course, don't forget that this is just one of many extraordinary recipes available for your enjoyment on StrawberryPlants.org. There are even other fantastic and unique salad recipes! If you are looking for other culinary uses for your extra strawberries, be sure to see the complete Strawberry Recipes section.
Sweet Strawberry Spinach Salad Recipe
While spring might be the most natural time to enjoy this salad recipe due to its call for strawberries, the delightful experience of taste that comes with eating it makes it a wonderful option for any occasion and any season.  In fact, what better way to look forward to warmer days while in the middle of winter than by savoring something as spring-ish as this sumptuous salad!
Sweet Strawberry Spinach Salad Ingredients
2 cups of strawberries (strawberries can be substituted, conversions here. You can also freeze your own)
4 cups of spinach
4 cups of romaine hearts
1/2 cup of candied pecans
1/2 cup of dried cranberries
3 ounces of crumbled blue cheese
1 cup of cashews (2/3 cup of cashew pieces can be substituted)
1/4 cup of brown sugar
1 tablespoon of balsamic vinegar
1 tablespoon of olive oil
1/2 teaspoon of salt
Sweet Strawberry Spinach Salad Recipe Directions

Wash and hull the strawberries.  Quarter the washed strawberries and set them aside.
Stir the brown sugar, balsamic vinegar, salt, and olive oil in a large pan or skillet over medium heat.  When the sugar melts and the syrup starts to bubble (usually takes about three minutes or so), mix in the pecans and stir them until they are fully coated with the syrup (usually takes about 5 minutes or so).  On a separate sheet of wax paper or aluminum foil, allow the coated nuts to cool completely.  Make sure no nuts are touching any other nuts while cooling.
Wash and dry the spinach and romaine hearts.  Cut them to your desired size and place them into a salad bowl.  Add the cranberries, blue cheese, candied pecans, and cashews.
Use a salad dressing of your choice.  A vinaigrette works well, or you can opt for the best salad dressing for strawberry salads.
Additional Notes on this Strawberry Recipe
This sweet strawberry spinach salad goes perfectly with any meal.  You can also save a bit of time by preparing the candied pecans beforehand.  Just be sure to seal them in an air-tight container, and they will keep for about a month. Plus, just like most of the other Strawberry Recipes, this one can be easily modified. For varied tastes, try adding blueberries, blackberries, or other exotic fruit. Experiment and find what works well for you and your unique taste sensibilities! For those conscious about the amount of refined table sugar they consume, feel free to try organic evaporated cane juice crystals, turbinado, sucanat, honey crystals, brown sugar, or even stevia to give unique and varied accents to this quick strawberry recipe.
Be sure to post a comment about your experience below, and others will benefit from your experiences!
Enjoy!