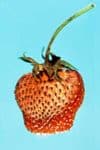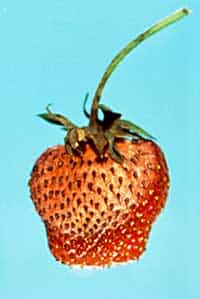 Q: What Causes Brown Spots on Strawberries?
On January 3rd, 2017, Jim asked:
I made an incredible raised bed garden just for strawberry plants. The plants have bloomed and now the berrys are turning brown. What is the likely cause and is there a remendy for this situation? I have planted strawberry plants in a raised bed planter using organic soil … I'm in central Florida and the plants are doing splendid, however, the berry turns brown and it appears as if the seeds on the berry fall off. I have found no reference to this situation in any websites I have perused. I'm hoping you can clue me in to whats happening, or at least give me the proper words for the obituary.
Answer to: What Causes Brown Spots on Strawberries?
Jim,
It can be extremely frustrating to spend as much time and effort making a great strawberry bed only to have your strawberries turn brown or rot on the plants before you get to enjoy the sweet fruits of your labor.  There are several things that can cause brown spots on strawberries, but the most common two are rot caused by partial animal or insect feeding and a fungal organism.  The first (pests) is likely self-explanatory.  The second, however, can be more insidious.  This post will deal with the second major cause of brown spots on strawberries: leather rot.