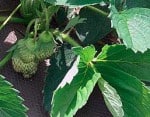 Q: How Should I be Caring for Strawberry Plants in Warm Winters?
On December 28, 2015, Sarah asked:
Should I cut my plants back before mulching? If so, how much? I am growing Yellow Wonder yellow alpine strawberries and they were really unique and tasty berries last summer, and very happy plants – not fussy at all. I am in Brooklyn, NY z7a and our weather this winter is record breaking warm. I have left my strawberries (and some of my flowers and herbs) as they were through the growing season. My strawberries are still flowering, and even some cavalier fruits are going for it! So I've left them alone because I was just so darn curious what they would do in this extremely unseasonable weather. But it may actually finally become winter here soon, I hope, so I would like to know, 1- should I cut back healthy vegetation before covering, and 2- anything else I need to know for a strangely warm and unpredictable winter season in my zone? Thanks so much for your great site!
Answer to: Warm Winter Care for Strawberry Plants?
Continue reading Caring for Strawberry Plants in Warm Winters