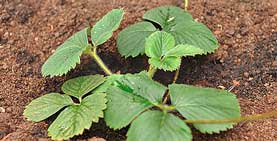 This is a question submitted to Strawberry Plants .org by a reader. The information provided in response to the question may benefit others with the same or similar inquiries. Therefore, it has been added to the archive page of submitted questions. See the Strawberry FAQ for more questions, or use the search box at the top right of this page to search this site for information.
Q: Should I Cut Off Runner Plants from My Strawberries?
On July 17th, 2011, Stephanie asked:
I planted June-bearing and everbearing strawberries this spring. I have notes from a Master Gardener class that says to cut off the granddaughters and leave the daughters, but other sources say to cut all runners the first year. I was thinking the mother plant might be stronger and produce better fruit if she doesn't have to send nutrition to the off-spring. I'm not sure what to do this year. I really liked your method of transplanting from bed to bed in the fall, but should I plan to do that the first year of the mother plants?
Continue reading Should I Cut Off Runner Plants from My Strawberries?