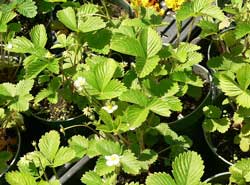 Gardeners often want to know how many strawberry plants they will need to buy (Buy Strawberry Plants) and plant in order to achieve their desired strawberry harvest.  Of course, there are quite a few variables involved with Growing Strawberries, and each Strawberry Variety is slightly different.  However, if conditions are appropriate, soil and water requirements are adequately met, and weed, pests, and pathogens are effectively controlled, a fairly reliable harvest can be expected.
The three types of strawberry plants each produce different expected amounts of fruit.  The following is a brief reference so that the anticipated harvest can be put to good use when it comes in.  Be sure to plant enough plants to reap the rewards you seek!
Continue reading How Many Strawberries Do Strawberry Plants Produce?