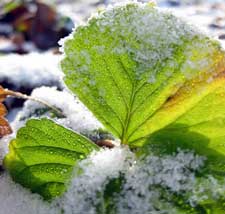 Strawberries are a delightful treat for thousands of home gardeners every year.  The sweet rush of flavor that comes after sampling the distinctive aromatic profile makes for a truly rewarding experience early in the growing season.  Strawberries are one of the first fruits to be harvested in virtually every temperate region of the world, and the life cycle of the strawberry plant is uniquely suited to bearing an early crop.
Usually before spring even arrives, the strawberry plants are coaxed from their long winter's slumber by rising temperatures and burst forth from dormancy in a fevered rush of vegetative production on their journey to setting a nice harvest of berries for the gardener who lavished care on them.  But, in most areas, winter poses a real threat to the life of the little forbs.
This post will help you successfully overwinter strawberries so that YOU can enjoy that first burst of juicy strawberry fruits each and every spring.