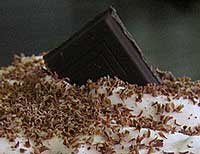 There are a bazillion recipes out there that call for using strawberries (in some form or fashion) with chocolate.  And that is just as it should be.  Whether it is chocolate covered strawberries or a two-flavored frozen yogurt cone with chocolate and strawberry sides intertwined all the way up the swirl, these two tastes are meant to go together.  But, there is a difference between throwing any chocolate together with any strawberry and this recipe.
This recipe is a masterpiece.
Oh, sure, I can see the eyes rolling now.  But you don't have to take my word for it.  Make it and see.  The delicate chocolate overtones with the yogurt and sweet strawberries prove it to be wonderful to any tongue that tastes it.  So, get ready to make this masterpiece and become the Picasso of the Kitchen.