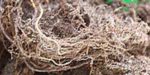 What is the key to a heaping harvest of mouth-watering, juicy, delightful strawberries?  Simply put: the strawberry roots.  Healthy strawberry roots are the key to a healthy strawberry plant.  Roots are just roots, right?  Well, the fine filaments that absorb the needed nutrients from the soil that help each plant set a heavy crop of strawberries are a bit more sophisticated than you might imagine.  This article will help you understand the nature and importance of strawberry root systems.
Types of Strawberry Roots
There are two types of strawberry roots: primary roots and secondary roots.  Primary roots are the main roots of each strawberry plant.  Primary strawberry roots carry absorbed water and nutrients from the soil into the crown of the strawberry plant.  These roots are perennial in nature and survive for multiple years.
Secondary strawberry roots are also called "feeder" roots.  They are short-lived.  A normal lifespan for feeder roots is days to weeks.  The secondary strawberry roots are much finer than the primary roots.  Consequently, they are damaged very easily.  The actual water and nutrient absorption is performed by these roots.