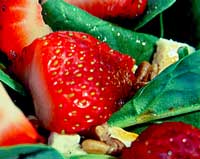 Springtime.  It is the time of year when bluebirds perch atop your shoulders and chirp a sweet melody.  It is the time of year when snows promise to be a thing of the past, and green bursts forth from the dank bleakness of winter brown.  budding flowers on dogwoods and the paler green tips upon conifer branches herald the coming of something grand.
With the coming of increasing temperatures, strawberry plants also are called to renewed vigor as they break dormancy and again send forth their foliage to welcome the strengthening rays of the sun.  But, not only leaves appear!  The perennating buds that were forms with care the previous year also come forth as delicate strawberry flowers.  The buzzing bees find favor therein, and soon the white petals drop and yield a glimpse of red remaining.
Joy comes for many with the first spring harvest of strawberries.  And, what better way to kick off the fun of the coming months than with a great recipe using your freshly-picked strawberries?!  This sweet strawberry spinach salad is just what you need.