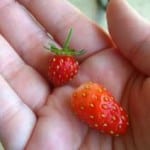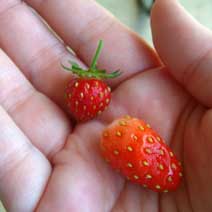 Q: Why Are My Strawberries Small?
On July 18, 2015, Michael Johnson asked:
Hi, I was hoping you could help me with a problem I have.  I need to know what causes small strawberries.  I planted my strawberries last year during September, and they put out some greenery before dying back for the winter months.  This spring they came up and looked to be doing pretty well.  They put out flowers on stalks that started to grow, but the size of the fruits that are produced are all tiny.  They are only about half an inch big, give or take a little.
I've done my best to water them, and follow the instructions for what should give a good crop, but I'm still stuck wondering what causes small strawberries after doing everything I can to make them big.  Can you tell me why are my strawberries small instead of big and plump like they are in the store?  Any help would be appreciated! Thank you.
Answer to: What Causes Small Strawberries?
Michael Johnson,
It is difficult to pinpoint exactly what causes small strawberries without being able to visualize your setup and without knowing all that has gone into their care up until this point.  There are a number of things that can cause your strawberries to smaller than the ones you may be used to buying at the store or from farmers markets.  So, let me point out some of the most common causes of small strawberries: