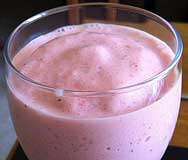 There are all sorts of smoothies out there these days.  Paleo ones, vegetarian ones, ones based on all the purple, red, orange, and green produce families out there.  Just about any powder, paste, or poor ol' plant can find their way into a blender.  There are entire diets based on nothing but smoothies.  There are weight-gain smoothies for body builders and weight-loss smoothies for every diet fad under the sun.  The simplicity of making smoothies has opened the door for marketers to manipulate the minds of the masses.  And, reminding people they need things they never knew existed serves an important function in our economy and society.  But, those other recipes can take a back seat for a few moments.  Because a few moments will be all the time you need to make this, the basic strawberry smoothie recipe.  So, if you don't have time to sit back and enjoy, just grab your blender or smoothie maker of choice, a fist full of ingredients (as listed below), and chop everything to bits for an on-the-go gulper fit for a king…a very busy one.
And, of course, don't forget that this is just one of many extraordinary recipes available for your enjoyment on StrawberryPlants.org. There are even other smoothie recipes! If you are looking for other culinary uses for your extra strawberries, be sure to see the complete Strawberry Recipes section.
The Basic Strawberry Smoothie Recipe
Go ahead and get your blender out of the cabinet, and root around in your kitchen utility drawer for a stopwatch or a timer.  This recipe is so quick and easy, you may want to time yourself and see if you can set a personal record for whipping up a recipe in the kitchen start-to-finish.  Whether you set a record or not, you'll still be able to enjoy first prize: the finished smoothie!
Basic Strawberry Smoothie Ingredients
2 cups of strawberries (strawberries can be substituted, conversions here. You can also freeze your own)
2 cups of ice cream
2 cups of milk
1/2 cup of sugar
1 teaspoon of lime juice
The Basic Strawberry Smoothie Recipe Directions

Wash and hull the strawberries, then place them, the milk, ice cream, and lime juice into a blender.  Blend until the smoothie is of even consistency and taste.  If it is perfect, you can withhold the sugar, or allow each individual to add extra sugar to their liking.  Or, if you and your fellow partakers are sweet-teethed, you can add the sugar with the rest of the ingredients at the beginning prior to blending.
Serve as soon as it is blended.
This takes a tiny amount of time, yields 4 big servings, and is sure to please everyone.
Additional Notes on this Strawberry Recipe
This basic strawberry smoothie recipe makes a great snack, especially in the summer.  If you want the smoothie thicker and colder, add ice to the blender as well.  Just like most of the other Strawberry Recipes, this one can be easily modified. For varied tastes, try adding blueberries, blackberries, or other exotic fruit.  For an enhanced strawberry experience add strawberry ice cream instead of regular vanilla. Experiment and find what works well for you and your unique taste sensibilities! For those conscious about the amount of refined table sugar they consume, feel free to try organic evaporated cane juice crystals, turbinado, sucanat, honey crystals, brown sugar, or even stevia to give unique and varied accents to this quick strawberry recipe.
Be sure to post a comment about your experience below, and others will benefit from your experiences!
Enjoy!