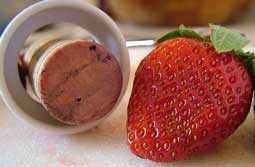 Every now and then, an adventurous soul will ask me about making strawberry wine (you can learn about making strawberry wine on the Strawberry Wine Recipe page).  Invariably, one of the first questions asked is, "What are the best strawberries for making for making strawberry wine?"  After all, it all begins with the strawberries!
Best Strawberries for Wine: Background
Strawberries are uniquely suited for making "consume-me-now" wines.  Unlike wines made from grapes, aging doesn't improve the body of many strawberry wines.  Additionally, the relatively high sugar content of virtually all strawberries makes most strawberry varieties suitable for wine making.  Grapes, on the other hand, are highly variable.  Some grape varieties are noble, and some are, well, not.  By no means are all grapes equal when it comes to wines.  And, to be fair, all strawberries are not equal either; it is just that the variability is much less, making most strawberry varieties acceptable choices.
The Best Strawberries for Making Strawberry Wine
When it comes to making a preeminent dessert wine, no strawberries compare to the two red, full-flavored wild-type strawberries: Fragaria virginiana and Fragaria vesca (aka Alpine strawberries). You can find these plants for sale here and here.
Each wild strawberry carries with it a truly intense flavor and aroma, and, if you can grow enough of them, make exquisite wines.  Unfortunately, there are a few reasons these powerful berries don't find themselves in wine bottles very often.  Compared to modern cultivars, these plants produce only a small yield of small strawberries.  So, while they may be the best strawberries for wine making, beverages made with them tend to carry an exquisite price tag to match their exquisite body.  A good choice for a wine-making strawberry that falls somewhere between the wild strawberries and the typical run-of-the-mill variety is the aromatic Mara des Bois.  It is good for making wine, and it is commonly used for that purpose in Europe.  A newer variety released in March of 2012 also holds much promise for wine-making: Purple Wonder.  It is, by far, the deepest-colored strawberry on the market, and also has an excellent aroma (more details on this variety may be found here).
Strawberry Wine Making: Next Best Varieties
While not the penultimate best strawberries for making strawberry wine, several June-bearing cultivars have come to be the "best choice" for most individuals and wineries looking to produce a significant quantity of high-quality and affordable strawberry wine.  While whichever June-bearing variety that grows well in any given climate will do reasonably well as a wine strawberry, the varieties that have assumed the mantle of tradition as good wine making strawberries are Albritton, Cardinal, Dunlap, Earliglow, Sparkle, and Sweet Charlie [Empire and Fletcher are also recommended by Lewis Hill, but those cultivars may be more difficult to obtain].
Best Strawberries for Making Strawberry Wine: Wine Strawberry
In conclusion, virtually any strawberry will make a decent strawberry wine.  So, in that sense, every strawberry can be a wine strawberry!  If you every have the chance to cultivate the wild strawberries, take advantage of it.  While unmistakably strawberry, they will truly delight your palate in a way no strawberry has before (whether eaten raw or used to make a beverage).  If you can't obtain enough of said strawberries to make wine, the other strawberry varieties are the next best wine strawberries and will surely not fail to please.
Good luck!