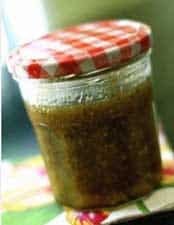 So, you've collected the harvest from your strawberry plants and want to incorporate the strawberries into one of the world's best Strawberry Salad Recipes.  And, you may have chosen the single best Strawberry Salad Recipe known to man.  But, which is the best strawberry salad dressing to use with such an amazing culinary concoction?
Look no further.  In order to enhance and accent an already amazing salad, using this strawberry salad dressing recipe will give you quite a tasty delight.  In fact, your taste buds may think it is a magic trick.  But, there is no trickeration here.  It works every time: use the best strawberry salad dressing with your salad as instructed below, and you'll have a bona fide winner sure to satisfy every member of the family.
The Best Strawberry Salad Dressing: Ingredients
3/4 cup safflower oil
1/3 cup honey
1/4 cup red wine vinegar
2 tablespoons poppy seed
1 tablespoon dijon mustard
1/2 teaspoon sea salt
Best Strawberry Salad Dressing Recipe Directions
Combine all the ingredients in a blender.  Blend for 30 seconds.  After blending, put the salad dressing into the refrigerator and chill it prior to use.
Strawberry Salad Dressing: Notes
Different oils can be substituted, or regular salt can be used as your preferences dictate.
One of the positives of this recipe is that there are no refined carbohydrates or sugars in it.  The honey gives it a full-bodied sweetness that compliments strawberry salads perfectly.
This recipe may make the best strawberry salad dressing of all time, but don't hesitate to try to make it even better.  All recipes are made to be tinkered with, and this one is no exception.  Experiment with it and have fun; then post a comment about your trials and successes with this recipe!
Enjoy the best strawberry salad dressing recipe ever!