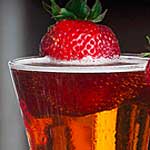 When winter fades into spring and life seems to burst forth from its long winter slumber, friends and neighbors emerge from the hearths and cabins and houses and are ready to test the relational vigor remembered from the previous year's awakening.  During those festive days, the serotonin surges.  People are ready to socialize and enjoy the warming days.  Even as the gardens across neighborhoods start to sprout and flower, there is still the allure of that harbinger of good things to come: the strawberry.  The only problem is that most people are as busy as the bees themselves during the springtime.  Cleaning, socializing, planning for the rest of the year all have to happen in a small window of time, or so it seems.  So, don't forgo your garden party this year, just file this strawbeery drink recipe away as a time-saving amendment to the fun!
And, of course, don't forget that this is just one of many extraordinary recipes available for your enjoyment on StrawberryPlants.org. There are even other drink recipes! If you are looking for other culinary uses for your extra strawberries, be sure to see the complete Strawberry Recipes section.
The Strawbeery Drink Recipe
It doesn't get any easier than this recipe, truly.  Two ingredients and something with which you can stir.  That, a few glasses, and you are "good to go," as the saying proclaims.  So, enjoy this simplistic strawbeery drink this year!  And, hooray for the strawbeery drink recipe!
Strawberry Drink Ingredients
Fresh strawberries (strawberries can be substituted, conversions here. You can also freeze your own)
Beer
The Strawbeery Drink Recipe Directions
In a 16-ounce glass, pour or squeeze 1 ounce of strawberry syrup.  Then, fill the glass the rest of the way up with your favorite domestic or foreign beer and stir it up well.  If you'd rather use a large pitcher, just add 1 ounce of the strawberry syrup for each 15 ounces of beer, and then stir well before serving.  Garnish each glass with a strawberry.
Additional Notes on this Strawberry Recipe
As with any alcohol-containing beverage, be sure to drink responsibly.  Plus, just like most of the other Strawberry Recipes, this one can be easily modified. For those conscious about the amount of refined table sugar they consume, feel free to try organic evaporated cane juice crystals, turbinado, sucanat, honey crystals, brown sugar, or even stevia to give unique and varied accents to this quick strawberry recipe.
Be sure to post a comment about your experience below, and others will benefit from your experiences!
Enjoy!