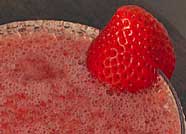 There's no need to waste away again in Margaritaville.  Sugar and salt are well and good, but this Triple sec strawberry margarita recipe will trump lesser margarita recipes.  So, find a friend or make a new friend out of a former stranger by whipping this quick recipe up and offering it to the first bystander who happens by.
And, of course, don't forget that this is just one of many extraordinary recipes available for your enjoyment on StrawberryPlants.org. There are even other drink recipes! If you are looking for other culinary uses for your extra strawberries, be sure to see the complete Strawberry Recipes section.
Triple Sec Strawberry Margarita Recipe
As with any alcohol-containing beverage, margaritas have the potential to cloud judgment, erase inhibitions, and basically get you in all sorts of deep water.  So, before you begin sipping, use your mental faculties to facilitate a fun experience for yourself and everyone else.  Always drink responsibly.  And, if you will be using self-operated motorized vehicles for transport, ensure you've procured a kind soul to serve as the designated driver.
Triple Sec Strawberry Margarita Ingredients
2 cups of strawberries (strawberries can be substituted, conversions here. You can also freeze your own)
2 whole strawberries
2 ounces of lime juice
2 ounces of tequila
1 ounce of Triple sec
1 cup of ice
Triple Sec Strawberry Margarita Recipe Directions

Wash all of the strawberries.  Then hull all of them except for two (these will be used as garnishment).  Pour all of the ingredients (except the two whole strawberries) into a blender and blend on high for 30 seconds.  When smoothly blended, pour into a couple of margarita glasses.  Slice the two remaining whole strawberries from the tip about halfway to the green hull, then slide the strawberry over the lip of each margarita glass.  Serve while cold.
This recipe makes 2 servings.
Additional Notes on this Strawberry Recipe
Like all of the other Strawberry Recipes, this one can be easily modified.  But, it really needs no modification! For those conscious about the amount of refined table sugar they consume, feel free to try organic evaporated cane juice crystals, turbinado, sucanat, honey crystals, brown sugar, or even stevia to give unique and varied accents to this quick strawberry recipe.
Be sure to post a comment about your experience below, and others will benefit from your experiences!
Enjoy!